UPDATED BELOW. 
What more could go wrong for Americans in Afghanistan? On Wednesday evening, the State Department issued a warning telling US citizens to avoid coming to Kabul Airport. Instead, they will need to wait for an email from the government telling them what to do.
One year ago this week, the LHD-6 Bonhomme Richard caught fire in the San Diego Harbor. It took four days to fully extinguish the fire and the…
Rep. Liz Cheney wants to be the nanny of the Republican party. That's because, as she told Fox News's Chris Wallace on Sunday morning, Trump supporters were…
Congressman Dan Crenshaw can often see issues more clearly with one eye than others can see with both. But now he is at risk of losing the…
Representative Dan Crenshaw nuked Speaker Nancy Pelosi on the floor of the House. He said aloud what we all have know for years. Nancy Pelosi is a…
There is nothing but crap in the Pelosi Schumer bill that Democrats oh-so condescendingly inform Americans is MUCH better than the Republican CARES Act.
The Left has decided that the Electoral College must go. This morning, Jammelle Bouie has a column in the New York Times titled "Alexandria Ocasio-Cortez Understands Democracy…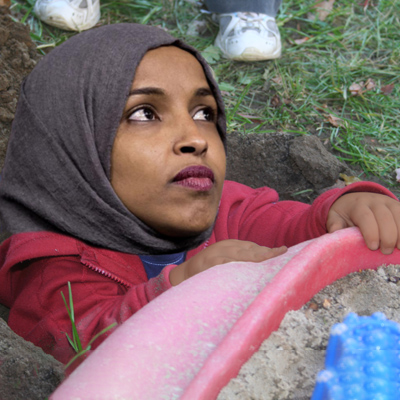 You know the saying, When you find yourself in a hole, stop digging? Apparently Ilhan Omar didn't get that memo, or is too dense to understand it. Or…
Ilhan Omar would have you believe that she's been oppressed and vilified ever since she stepped foot into the United States when she was twelve years old….
The House Democrats have been on an ugly roll in the last few weeks. Not only did they give Ilhan Omar a token slap on the wrist,…
This weekend promises to be LIT AF given all the news regarding Jussie Smollett, Andrew McCabe, and the government spending bill that passed the House and Senate…
In the midst of the understandable backlash regarding the abortion bills put forth in New York and Virginia, along with Wreck-It Ralph's KKK/Blackface debacle, the White House…
Did y'all see Congressman-elect Dan Crenshaw on CBS's gassy windbag program "Face the Nation" Sunday? Oh my gravy! To quote Salt-N-Pepa, "What a man. What a man….
Navy SEAL Lt. Commander Dan Crenshaw won his election to Congress on Tuesday, and got a full apology from Pete Davidson late Saturday night during the "Weekend…
The House of Representatives is within reach of Democrat control in this midterm election. We all know that means another round of Nancy Pelosi as Speaker of…