Senator Richard Blumenthal (DaNang, CT) issued a threat to the Republicans on Twitter,regarding the next SCOTUS pick after the death of Ruth Bader Ginsburg. DaNang Dick Blumenthal is a typical Twitter keyboard bully. The fearless Tammy Bruce fileted him, and it was a yummy delicious filet.
The gauntlet has been thrown. Within minutes of the notification of Ruth Bader Ginsburg's passing, Chuck Schumer attempted to troll Mitch McConnell.
Once again, our Southern border and the problems of mass immigration are in the news. A Supreme Court ruling Wednesday evening allows new Trump Administration directives to…
Yes, you read that headline correctly – Ruth Bader Ginsburg actually praised Brett Kavanaugh in public. Why? Kavanaugh has an all-woman law clerk team.
This week, our featured book is "The Unstoppable Ruth Bader Ginsburg". The subhead is "American Icon". There is also a subhead of "The Whole (T)Ruth". Oy vey….
Did you have any idea that Justice Ruth Bader Ginsburg is a style icon who sends messages by the subtle use of different collars over her black…
Here at Victory Girls we'd like to see a conservative 2019. Which means, of course, that some big things need to happen — like The Wall. But…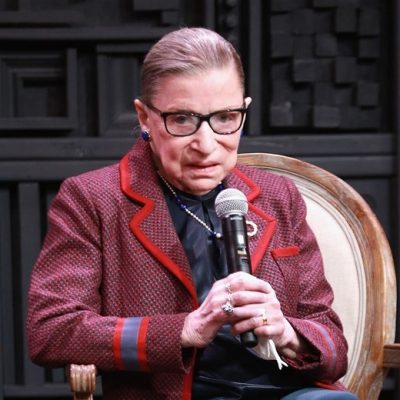 Supreme Court Justice Ruth Bader Ginsburg has no plans of retiring, just so everyone knows. So don't expect her to hang up her robe anytime soon.
The list of virtue-signalling, race-baiting, anencephalic attention whores who are publicly patting themselves on the back by claiming to skip the President's first State of the Union…
Justices Antonin Scalia and Ruth Bader Ginsburg famously had a very close friendship. They were as different, politically, as two people could possibly be, but it didn't…