We've written many times about the dangers and horrors of Fidel Castro and his regime. We made it VERY clear that Obama's 'play nice in the sandbox' roll back of sanctions against Cuba were, just like the Iran Deal, a one-sided bargain in which the only one who benefitted was Cuba. Obama's fawning visit to Cuba last year made things even worse.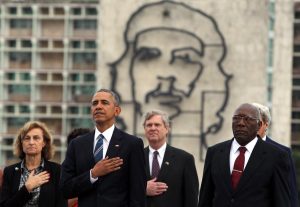 You know, Cuba planned that photo op in front of Che Guevara for a reason. To make Obama and the U.S. look like idiots. And it worked.
Both President Trump and Senator Marco Rubio (R-FL) made it extremely clear during the 2016 Presidential campaign their disdain for Obama's Cuba policy. Today, in Miami, both gentlemen joined together in announcing new changes to the U.S./Cuba Policy.
Senator Rubio's speech was spot on.
Then, President Trump took the stage.
President Trump says he's cancelling the Obama administration's one-sides deal with Cuba 🇺🇸 🇨🇺pic.twitter.com/5lj6lmYYyX

— The Rouser (@RouserNews) June 16, 2017
He went on to give a speech that really was outstanding.
Here are the highlights:
Travel will still be allowed, but the people to people requirement (educational travel) will continue to be strictly enforced.
No one will be allowed to do business with the Cuban military.
U.S. Embassy will remain open in hopes Cuba will work there to submit a revised deal.
Called out the continued failures of Communism of which the Obama/Cuba deal did nothing to alleviate.
Brought up family members of jailed Cuban dissidents and freed dissidents themselves to highlight the continued horrors of Castro's Cuba.
President Trump called out the regime, demanded all political prisoners be released and Cuba be opened  freedom.
"To the Cuban government, I say, put an end to the abuse of dissidents, release the political prisoners, stop jailing innocent people, open yourselves to political and economic freedoms, return the fugitives from American justice, including the return of the cop killer Joanne Chesimard," Trump said, referencing the former Black Panther who was convicted of murder in 1977.
Needless to say, many were happy with the President's directness regarding the harboring of fugitives.
Glad @potus called the cop killer Joanne Chesimard by her given name not her phony "revolutionary" moniker.#BlueLivesMatter @KatiePavlich

— Gary Carlo (@GaryACarlo) June 16, 2017
Trump called for open and FREE elections with international oversight.
The only people enriched by the Obama/Cuban deal were those in the government. The Cuban people still suffer.
Clearly stated that the Obama/Cuban deal awarded the Castro brothers for their decades of bad behavior, and it was time it stopped.
Those are just a few of the highlights.
Needless to say, President Trump's new policy will be chewed over, dissected, and torn apart. Especially by those who dislike Trump immensely, and those who have yet to meet a dictator they don't like.
For example:
.@KatiePavlich @GeoScarborough @realDonaldTrump I am sorry you are not seeing what's really happening. Very very sorry.

— Mika Brzezinski (@morningmika) June 16, 2017
Still waiting for Mika to tell us what it is we're not seeing clearly, but I guess she won't since she deleted her tweet. Meanwhile, one of the architects of the Obama/Cuban deal has his shorts in a knot.
The few people in Miami enabling Trump in carrying out this charade should be embarrassed/ held accountable. He could care less about Cubans

— Ben Rhodes (@brhodes) June 16, 2017
And his whining continues:
It's tragic that some people in Fla are so determined to cling to a failed hardline on Cuba that they're hitching themselves to Donald Trump

— Ben Rhodes (@brhodes) June 16, 2017
Ben Rhodes, pro fiction writer, now lecturing refugees of vicious Cuba communist regime. He helped empower the gov'thttps://t.co/Yyrg4Plnja

— Jordan Schachtel (@JordanSchachtel) June 16, 2017
Gosh, talk about getting hit with a rake! OUCH. Something to keep in mind.
Cuba deal happened because Obama wanted "something big on Cuba" so @brhodes circumvented State Dept, Cong, and public

Fawning NYT story –> pic.twitter.com/yDwfyWrQht

— Omri Ceren (@omriceren) June 16, 2017
Sorry Ben, Mika, and all the rest of the whiners. If you can't recognize that dictators such as the Castros were never going to change their spots, you were sadly naive. Then again, I sincerely doubt that Obama will be asked to anymore baseball games with the Castro boys.
Did President Trump's roll back of Obama's horrendous Cuban policy go far enough? Many don't think so. Many, of course, think it went too far. One thing is clear, Obama's legacy of appeasement has only worked for everyone else. Cuba reaped the benefits and the U.S. was left holding the bag. President Trump's changes to this one-sided policy is an excellent start.
(Visited 9 times, 9 visits today)