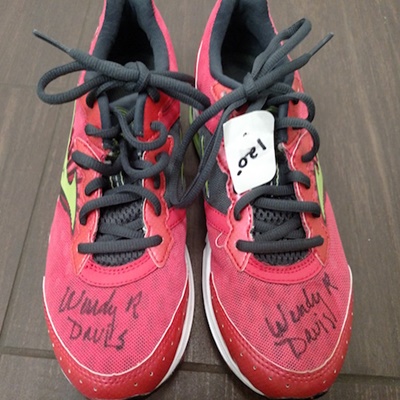 Former Texas state senator Wendy Davis found a way to become relevant once again by championing Nancy Pelosi's 8-hour filibuster in support of the Dreamers last week. Davis, who pretty quickly fell off the political map after her loss to Gregg Abbott in 2014, took to The Hill to not only support Pelosi and Dreamers, but to push her own qualifications. The question is for what? Is she hoping to make another run for office or is this simply an attempt to become "news" again to help drum up support for the Sandra Bullock movie about her?
It's not enough that the slimy underbelly that is Hollywood has had a bright nasty light shown on it. Nope. All of y'all persist in showcasing the…
She has no answers for addressing the exploding costs of illegals invading her state. She has no answers to address the reports that ISIS is at her…
The November 4th midterms are fast approaching and Democrats are growing increasingly desperate. As polls show record low approval ratings for the party, the usual suspects are…
The Wendy Davis "Abortion Barbie" Campaign Show continues.  Wendy Davis, Gubernatorial Candidate for Texas, best-known for her June 2013 filibuster of an anti-abortion bill on the Texas…
You know, I'm not sure that Wendy Davis's supposedly "iconic" pink running shoes and diaper (or is it catheter?) are going to help this time. Stories abound…
This afternoon, U.S. District Judge Lee Yeakel blocked a key part of Texas' 2013 abortion law, which would have required hospital level operating standards. Out of the…
From across the Pond in the MailOnline we get this charming little tale of how a 25-year-old British woman accused her grandfather of raping her when she…
The poor femisogynists of America should prepare themselves for disappointment. As the absolutely disastrous campaign Wendy Davis has been running in Texas has continued to be a…
While gubernatorial candidate Wendy Davis continues evolving her position on abortion, morphing it to reflect whatever political wind is blowing across the plains of Texas, and Girl…
Last summer, Wendy Davis famously stood in front of the Texas legislature for eleven hours, filibustering a bill that would outlaw abortions after 20 weeks of pregnancy….
In a sudden burst of inspiration desperation, Wendy Davis has decided that she suddenly is in favor of open carry.  This chick is like a freaking train…
Wendy Davis is feeling the heat from the unfortunate outing of her life story. Far from being the struggling single mother who got divorced as a teenager,…
Wendy Davis, the Texas state representative who stood up for 11 hours and spoke about how much she supports abortion, is now running for governor of the…
In a jaw-dropping display of grotesque depravity, a woman masquerading as a mother at a pro late-term abortion rally compelled her two young children to hold signs…