The Georgia House District 6 Special Election just got more interesting. As Jodi noted here, the question on everyone's mind was – would Democrat Jon Ossoff prevail? Well… not quite.
Democrat Jon Ossoff fell just short Tuesday of capturing a House seat in a longtime conservative stronghold in Georgia, serving a reminder to Republicans of President Donald Trump's unpopularity.
Ossoff received 48.1% of the vote, shy of the 50% he needed to win outright. He and the other top vote-getter — Republican candidate Karen Handel, who received 19.8% — will now face off in a runoff election in June, a likely uphill climb for Democrats now that the Republican vote in a reliably GOP district will be consolidated behind one candidate.
Keep in mind that Handel's vote percentage was due to a very crowded field of contenders on the Republican side. Now, however, it's just the two of them battling it out before the election on June 20th.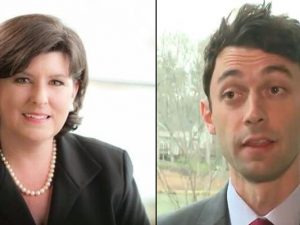 Why is this race of interest? Because whomever is elected will either be an assist to the House on the Republican side or a major foe of any and every move that President Trump makes. The President recognized the stakes and tweeted the following:
The super Liberal Democrat in the Georgia Congressioal race tomorrow wants to protect criminals, allow illegal immigration and raise taxes!

— Donald J. Trump (@realDonaldTrump) April 17, 2017
Democrat Jon Ossoff would be a disaster in Congress. VERY weak on crime and illegal immigration, bad for jobs and wants higher taxes. Say NO

— Donald J. Trump (@realDonaldTrump) April 18, 2017

Here's the thing. If Handel, the GOP, and the Georgia Republicans want a win, then one of the first campaign ads they need to issue should involve this interview that took place on CNN.


Did you catch that? This guy has been raking in millions from Democrat donors and celebrities for this campaign. But he is NOT a resident of the district! This is a pretty important issue right?
Well it kinda should be
Dontcha' think? https://t.co/XmixSLKKSR

— Jim Hanson (@Uncle_Jimbo) April 18, 2017

The girlfriend shouldn't be an excuse by the way. Furthermore, Handel and company have an additional campaign ad they can run.
Crew on the ground in GA-6 say at least 30 ppl turned away in a short time bc they don't live in the district. Many very angry.

— Decision Desk HQ (@DecisionDeskHQ) April 18, 2017
"I am angry that you are not allowing me to vote in a district where I don't live!" https://t.co/2cGUKBU8QG

— Jay Caruso (@JayCaruso) April 18, 2017

Huh. So not only could Jon Ossoff NOT vote in the district, others who don't live in the district tried to show up and vote? And yet the Democrats keep trying to tell us that there isn't any vote or election fraud. Nothing to see here, move along.
Meanwhile Georgia doesn't have to worry about Hillary running campaign stops on Ossoff's behalf at Chipotle. Instead those who frequent Panera Bread had better keep an eye out for her to emerge once again from the woods!
Even if he doesn't hit 50 tonight, Ossoff is showing us the path to retaking the House. It runs through the Panera Breads of America.

— Brian Fallon (@brianefallon) April 19, 2017

Meanwhile Ossoff is confident that last night was a victory.

Yes, that's right. A 'victory for the ages.' As Legal Insurrection's Kemberly Kaye points out $7 million didn't get Ossoff a clean sweep by any stretch of the imagination, but calling it a victory for the ages is one heckuva stretch!
Does Ossoff have a chance? Maybe, but unless an exception is made, he still won't be able to vote for himself on June 20th!
(Visited 15 times, 15 visits today)