The Oroville Dam was constructed in the 1960's and dedicated by then Governor Ronald Reagan in 1968.
A time when the California legislature wasn't prone political correctness, pandering and catering to damaging environmental idiocy, and at that time wasn't so tax happy.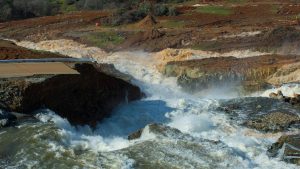 Unfortunately for many in California, and especially those downstream from Oroville Dam, times have changed. And not for the better as Gail wrote about here.
EVACUATION ORDER. Use of the auxiliary spillway has lead to severe erosion that could lead to a failure of the structure. @CALFIRE_ButteCo

— CA – DWR (@CA_DWR) February 13, 2017
Whoa. It's rare to see a govt agency use this language. Immediate evacuations near Oroville dam. pic.twitter.com/nu3cL7X09z

— Seema Mehta (@LATSeema) February 13, 2017
Water flows over emergency spillway at Oroville Dam for first time in reservoir's nearly 50-year history https://t.co/4wwJqqxi8A pic.twitter.com/Y9nShM8JTG

— ABC News (@ABC) February 12, 2017
Governors Schwarzenegger and Jerry Brown (whose father Gov. Pat Brown spearheaded the building of Oroville Dam), have ignored the major issues and warnings about the dam's infrastructure for over TWELVE YEARS in favor of higher taxes, illegals, and pet projects such as Jerry Brown's $68.4 billion high-speed rail idiocy.
Democrat Leftists in the State Legislature are proposing providing in-state tuition for refugees, yet too many working class families cannot afford to send their kids to California colleges and universities.

These same legislative leftists have proposed a bill to use taxpayer money to fund beach vacations for the poor. AB 250, by Assemblywoman Lorena Gonzalez Fletcher (D-San Diego), requires the California Coastal Conservancy, the state agency in charge of preserving California's 840 miles of coastline, to develop a "Low Cost Overnight Accommodations Program" for the poor, because "visiting on the coast has become prohibitively expensive for many Californians."

These same leftist lawmakers have a package of bills to provide lawyers and public defenders to illegal aliens facing deportation. One of the bills in the package requires taxpayers to pay for the legal defense of illegal aliens.
Yes, you read that correctly. While a major dam's failure is a distinct possibility and has an issue for over TWELVE  YEARS (yes I'm shouting again), the state would rather spend $25 billion a year on illegals so they can be tourists! Governor Brown would rather spend more stimulus money on that high-speed rail crap than fix a piece of infrastructure that serves well over 20 million citizens of California.
President Trump called for $1 trillion in infrastructure improvements. When Governor Brown submitted his proposal to the National Governor's Association, was repairing Oroville Dam anywhere on the list? NO. The high-speed rail was though! Its glaringly evident where the priorities are.
The irony is? Governor Brown is all of a sudden so concerned that he's asked for the Oroville area to be declared a federal disaster.
Levels at #Oroville Dam nearly 15 ft lower than Sunday's peak. Showers due in Wed, possible 6hr period of heavier rain Thurs AM, drier PM pic.twitter.com/24YwLnLBAo

— Rob Mayeda (@RobMayeda) February 14, 2017
I would hope that, if President Trump decides to grant Governor Brown's request, it  would come with some pretty hefty strings. Namely, dump the high-speed rail project and fix your existing infrastructure before all else.
Our prayers go out to all those affected and we hope those working around the clock to repair the damaged spillway are successful before more rain arrives later this week.
(Visited 9 times, 9 visits today)