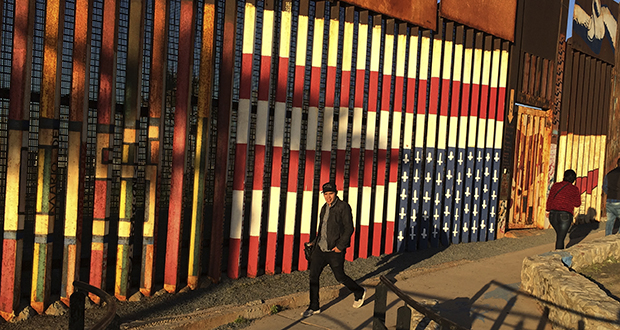 You know how politicians never fulfill the big promises they make? It appears that President Trump is working to carry out his biggest promise of all, and that's to build that wall on the U.S.-Mexican border.
On Wednesday Trump signed executive orders ordering the construction of the controversial wall. He wasn't finished either — he's threatened to cut off federal funds from "sanctuary cities" that willfully harbor illegal immigrants.
Mexican President Enrique Peña Nieto wasn't too happy about these new orders from the Trump Tornado. He cancelled a meeting that he had scheduled with Trump for next week.
And Trump's reaction? Meh. Trump declared that the meeting would've been "fruitless." "Unless Mexico is going to treat the United States fairly – with respect – such a meeting would be fruitless," he said.
There's more: the U.S. Border Patrol Chief, Mark Morgan, has been asked by the Department of Homeland Security to step down from his post. Morgan had been supportive of former President Obama's attempts to keep certain illegal immigrants from deportation. Moreover, members of the border patrol union had been supportive of Trump's presidential campaign and his executive orders. They were critical of Morgan.
As urban slang goes, "S**t's gettin' real."
Barack Obama is going to end his presidency still under delusions of his own competence. The man who once remembered that he was not a king is…
Following the targeted murders of our fellow Americans—who just so happened to belong to the LGBT community, at the hands of a deranged Islamic terrorist who pledged…
She's dodged sniper fire in Bosnia, been rejected by Marine recruiters, and was named after Sir Edmond Hillary, even though his famous Mt. Everest climb was six…
Meet the new boss, worse than the old boss. What's she doing now, you might ask? None other than continuing Eric Holder's attacks on the Second Amendment….
This is why I support mandatory drug testing in most areas of life, especially politics. "I'm proud of the fact that basically you've had an administration that…
In August, Attorney General Holder made a flying visit to Ferguson, MO. It was a busy visit filled with hugs for MO Highway Patrol Captain Ron Johnson, telling…
As I reflect back on the events of this past week as they relate to our President, I am reminded of a scene from the classic movie…
National Public Radio is announcing that Eric Holder is stepping down as Attorney General.  I'm sure NPR is in mourning, but before we start our Happy Dance,…
So now the DOJ Civil Rights division is going to investigate the Ferguson Police Department. This in addition to the other investigation the DOJ is already running in…
Many of us recall the tragic death of Border Patrol Agent Brian Terry resulting from the Fast and Furious scandal, and the succeeding cover up by the…
Many folks were shocked and saddened to hear of "Fast and Furious" actor Paul Walker's untimely death in a fiery car crash Saturday afternoon in California. Many,…
Over the course of his first three-and-a-half year tenure, Journalist Spy Extraordinaire, Contempt-er of Congress, and staunch Civil Rights Defender of Some Eric Holder has racked up…
Barack Obama's dislike for America seems to escalate every time he's on foreign soil. It's remarkable actually. Yesterday, while speaking to Mexican University students, he basically said…