Liz Cheney will lose to her Republican Primary opponent, Harriet Haggeman, on Tuesday. Good. In a sign of her future, disgraced Senator Al Franken joined her Dad, former VP Dick Cheney, and Kevin Costner, a Los Angeles cowboy, in endorsing her. They are her fellow travelers and those are perfect endorsements for Liz. She is a phony Wyomingite and Republican. She deserves her ignominious loss.
You knew it would happen. In a last ditch attempt to save her political career, Dick Cheney goes to bat for daughter Liz.
A Biden-Cheney 2024 ticket will fix all that ails this country says New York Times Thomas Friedman. No folks, this isn't a joke. He really wrote that.
Christian Bale is familiar with going to dark places. In both his personal life and movie roles, he's a dark person playing dark characters. Be it acting…
As we approach Thanksgiving I am sure that there are families across America who are travelling to get to one another's homes and who are thinking the…
This week the Supreme Court will tackle two huge issues, both of which will have far reaching implications for many in this nation. The first is the…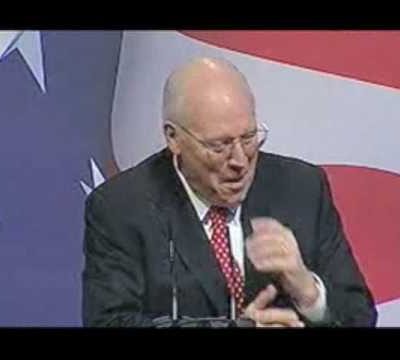 more reason to love, love dick cheney and to appreciate his position as a true constitutional conservative. "I think 2010 is going to be a phenomenal year…
just a few thoughts on yesterday's tv appearance by dick cheney. is there any other conservative that can make liberals actually correctly report their words and positions…
tonite barack obama will use our soldiers from west point for image building (instead of his horrible greek columns from the campaign) to present his carefully stage-crafted…
last night, former vp dick cheney received the center for security policy's 'Keeper of the Flame' award. after accepting the award, he gave a very direct speech…
no ulterior motives or agenda. he doesn't need the money – he has many millions. he isn't running for office – been there, done that. he isn't…