Florida Republican Representative Michael Waltz and Boston Celtic Center Enes Kanter Freedom worked together on an advertisement criticizing the corporate sponsors of the 2022 Beijing Winter Olympics for getting in bed with the Chinese Communist Party. NBC sole owner of the U.S. broadcast right to the games won't air the aid without removal of the corporate sponsor logos. When you are criticizing the corporate sponsors for caring about cash more than genocide, it defeats the purpose to disappear the logos.
Why on Earth are countries sending athletes to the 2022 Winter Olympics in Beijing? Many countries are not sending diplomats, but that's about the same as not…
The Beijing Olympics will be starting next month on February 4, and there are a whole host of reasons why we shouldn't be there.
At this point in the game, you may be starting to wonder why on Earth would the International Olympic Committee hold firm on the Winter 2022 Olympics…
No, Apple Daily is not part of Apple technology, or iPhones or iPads. Nor does it have anything to do with Apple Corps Limited, the media company…
In case you hadn't noticed, mainstream journalists see America as an irreparably racist nation. But many of them don't have problems with China; in fact, some even…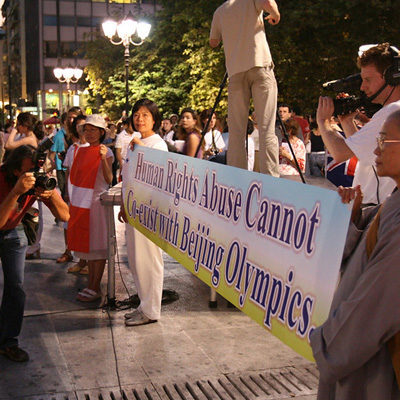 The world is waiting for sports to return after COVID cancellations, and that includes the Olympics. However, organizers for this summer's games in Tokyo are fretting over…
It looks like freedom is over for Hong Kong. China just imposed a draconian "security" law upon the city, leaving pro-democracy champions like Joshua Wong reeling. The…
The short answer is that it's too early to tell. The longer answer is, in the words of Ronald Reagan, "trust, but verify." Not that North Korea…
On his third foreign trip abroad, Donald Trump has largely proved "The Art of the Deal" and he makes it a family affair. Landing in China yesterday,…