The media, as if they haven't thrown enough fits lately, decided to get their knickers in a twist over dress codes. Specifically the dress code that pertains to the United States House and Senate. Here's what happened.
A young, female reporter recently tried to enter a guarded room known as the Speaker's lobby outside the House chamber, but her outfit was considered inappropriate because her shoulders weren't covered. She was wearing a sleeveless dress.

Forced to improvise, she ripped out pages from her notebook and stuffed them into her dress's shoulder openings to create sleeves, witnesses said. An officer who's tasked with enforcing rules in the Speaker's lobby said her creative concoction still was not acceptable.
ZOMG!!! Stop. The. Presses!  How DARE they inform a woman that her attire is unacceptable!
https://twitter.com/ktullymcmanus/status/882963836965445632?ref_src=twsrc%5Etfw&ref_url=http%3A%2F%2Ftwitchy.com%2Fbrettt-3136%2F2017%2F07%2F06%2Fthe-house-dress-code-isnt-new-but-women-there-suddenly-have-become-paul-ryans-handmaids%2F
In late June, after bringing the House to order, Ryan reminded House members to "wear appropriate business attire," on the floor. Apparently, the coverage of women's toes and shoulders is important business for the current House leader.
I mean REALLY! How dare he demand that people dress professionally and with class!
.@SpeakerRyan: "Members should wear appropriate business attire…" pic.twitter.com/a4f1Oy5ifT

— CSPAN (@cspan) June 23, 2017
Newsweek jumped the shark. 
"This dress code has been in effect for decades but now it's LITERALLY The Handmaid's Tale" pic.twitter.com/uwvhDdkElZ

— Ben McDonald (@Bmac0507) July 7, 2017
Meanwhile, Esquire sniveled that the dress code is SEXIST!, and echoed 'The Handmaid's Tale' schtick!
The lack of definition for "business appropriate" makes a rule like this ban on sleeveless tops inherently sexist. What is your reason, unidentified ruler of our wardrobe options? Are you not aware that attire can be business as hell and have no sleeves? What did a sleeveless shirt ever do to you? In the time of Trump, wavering rules on women's business appropriate outfit feels too much like The Handmaid's Tale come to life. We can't let the sleeveless-haters win.
Oh give me a break. Granted, Esquire also thinks the following styles are the height of fashion.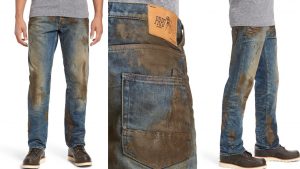 Yeah…I'll pass.
Meanwhile others posted photos of women politicians wearing sleeveless attire as kind of a supreme GOTCHA moment!
Hey @GOP, looks like female politicians have been wearing sleeveless dresses for a while. pic.twitter.com/X8km4QBAgK

— JenAshleyWright (@JenAshleyWright) July 6, 2017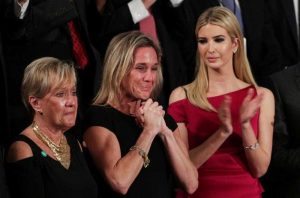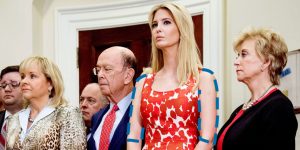 They did it, so that means everyone else can too!
Note to @IvankaTrump: You are in violation of @GOP's new Christian Sharia Law Dress Code https://t.co/n0ycjhJklq pic.twitter.com/yqtaVzTcLr

— The Daily Edge (@TheDailyEdge) July 6, 2017
Only one TEENY TINY LITTLE PROBLEM with all those photos just above. Look real hard to find what's missing.
Yes, you guessed it. Not a single person featured is anywhere near the FLOOR of House, the Senate, or even the lobby! Not a single one!
Oh but wait! Michelle was sleeveless in Congress!
Well, no, not really. You see, she was an invited guest who sat in the BALCONY and never went near the main floor. Oops. So much for that argument.
Here's the deal. I've been to Washington DC in the summer for meetings and trade shows. It's hot. It's muggy, and it can be downright miserable. But by golly, if I was visiting a Senator or Representative, or had the opportunity to visit the floor of the House or Senate, I would for darn sure be wearing professional business attire out of RESPECT for the institution of Congress and those who serve. In fact, I did. Did I swelter? Yes. But I also knew I was dressed appropriately and didn't stick out like a sore thumb. BTW: the dress code isn't new.
1980 was the first time I walked into the Speaker's Lobby. The dress code hasn't changed https://t.co/iQYVDlDh52

— Jamie Dupree (@jamiedupree) July 7, 2017
It's a given that the more professional one dresses, the more professionally that person is treated.
Sorry guys. The dress code is just fine and is by no means sexist. That is, unless you are members of the media and fashion world who are just itching to find that ONE MORE THING to blame Trump or the Republicans for!