Last Friday, after days and weeks of Democrat absurdity and hissy fits, Judge Neil Gorsuch was officially confirmed by the United States Senate to be the newest justice on the Supreme Court. Needless to say, we here at Victory Girls were thrilled that such an advocate for and defender of our Constitution and the rule of law would be taking his place on the highest court in the land.
Today, it became official. 
Colorado appeals court judge Neil M. Gorsuch took his oaths to be the Supreme Court's 113th justice Monday morning, first in a private ceremony at the court and later at a Rose Garden ceremony with the man who nominated him, President Trump.

At the first, private event in a grand room inside the Supreme Court, Chief Justice John G. Roberts Jr. administered the oath that all federal employees take. All eight justices and most of their spouses were on hand, as well as Maureen Scalia and Eugene Scalia, the widow and son of the justice Gorsuch is replacing, Antonin Scalia.

Gorsuch's wife Louise held a family Bible, and his daughters Emma and Belinda looked on.
A short time ago, the official swearing in ceremony took place in the Rose Garden.
We've written many times about how crucial Trump's choices will be in regards to the sanctity of this Republic, and who he chooses for the Supreme Court…
Unless you've been living in an ice cave somewhere in Siberia, you know that President Trump created a firestorm over the weekend with an executive order aimed…
In the span of a few days, Wikileaks has publicized 6 different groups of emails between Hillary Clinton's campaign chair John Podesta and numerous other people attached…
Tonight's debate was a pivotal point for the Trump campaign. After a weekend filled with wall-to-wall media coverage on the now-infamous "tape," virtually ignoring the many bombshells…
Trump did it again. Upended the applecart, turned the norm on its ear, and generally caused consternation amongst all. No, I'm not talking about his latest and…
This morning as we are picking ourselves up after another crazy day of primaries around the country; the President forged ahead with his plan for a U.S. Supreme…
A interesting hearing, presided over by Judge Richard Leon, took place in D.C. federal court two days ago. What is so intriguing about this particular hearing? Simply…
Supreme Court Justice Antonin Scalia was our firewall between freedom and a tyrannical, over-reaching central government. He was an invaluable defender of our Constitution, fighting on behalf…
It is a day of respect and honor for Justice Antonin Scalia. This morning he was brought one last time to the United States Supreme Court. It…
It is apparent to all but the most obtuse or hateful that Justice Scalia was not just a Constitutional giant, but a man who made friends with all…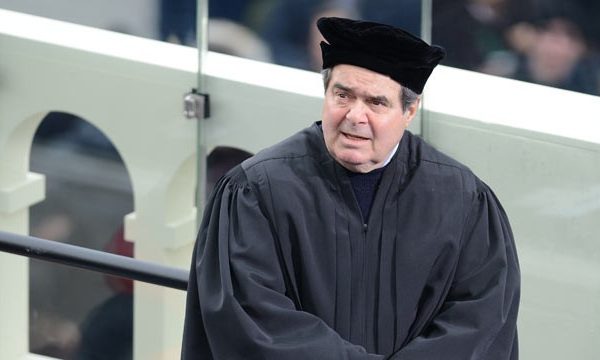 Matt Walsh over at The Blaze has written a wonderful article on the late Antonin Scalia's replacement and how the Republican Party will lose him if they…
It is with great shock and sadness that the news of the death one of the staunchest Constitutional Conservatives on the United States Supreme Court greeted us just a…
Conservatives were infuriated this past week when the Supreme Court upheld the Affordable Care Act in King v. Burwell. Justice Antonin Scalia, who eloquently dissented from the majority, denounced…