Ramadan has barely gotten started and already 149 people are dead in attacks in Kabul, Baghdad, Manila, and elsewhere. This count does not include the 7 who were murdered by terrorists last night on London Bridge and at the London Borough market. Jennifer and Deanna kept us updated here, and Kim made some excellent points about freedom and political correctness.
As the families of those killed in London mourn and 48 others strive to recover from their injuries, it is worth noting some of the responses to this most recent terror attack. First, the Mayor of London said terror attacks are 'part and parcel' of big city living, not long after the 9/11 attacks in the U.S. Fast forward to 2015.
Where we lead, others follow. David Cameron, we can & must do more. #refugeeswelcome https://t.co/VJ6rGD7FQc pic.twitter.com/VExt4prRUO

— Sadiq Khan (@SadiqKhan) September 3, 2015
And in 2016:
https://twitter.com/Ginlefebvre/status/871148760042266624
What has happened since May of 2016? Westminster, Manchester, and now London Bridge. When are the British going to regain their spine? When are they going to tell their leadership at all levels that "tolerance" and political correctness towards so-called refugees and anyone espousing Islam isn't working? When will the leadership realize that appeasement Neville Chamberlain style didn't work in the 1930's and it most certainly won't work now? Will the Mayor of London wake to the knowledge that terrorism is a far greater danger than climate change? Don't hold your breath.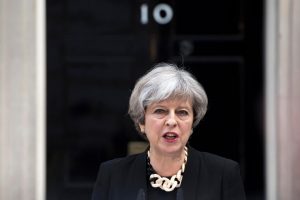 Perhaps Prime Minister Theresa May finally gets it.  
It should come as no surprise, given the nature of the attack at the Manchester Arena last night, that ISIS is claiming responsibility as Jodi pointed out…
Yesterday, it was announced that three upstanding personages were arrested in Brooklyn. Why is this news? Well, they are the latest crop of misguided children who've decided…