Earlier on Monday we at Victory Girls heard the shocking news of Todd Palin's snowmobile accident, which was serious enough to land him in intensive care. News media were reporting that Sarah Palin was canceling her events for Donald Trump to fly back to Alaska to be with her seriously injured husband.
JUST IN: Source: Todd Palin, husband of Sarah Palin, involved in "very serious" snowmobile crash; Palin's Trump event in Florida canceled.

— NBC Nightly News (@NBCNightlyNews) March 14, 2016
We had been disappointed when Sarah Palin endorsed Donald Trump just before the Iowa caucuses, but since we're wives too, we were instantly sympathetic to her plight. Many of us were praying for Sarah and her family.
Ted Cruz tweeted out his prayers for Sarah and her family.
Saddened to hear the news about Todd. Heidi and I will be keeping him and the entire Palin family in our thoughts and prayers.

— Ted Cruz (@tedcruz) March 14, 2016
But what's this? On the same day, rather than being at her husband's side in the ICU, Sarah Palin was participating in a rally in sunny Tampa, Florida.
Wait. Palin is speaking live right now at a Trump event in Tampa. I thought she was going home to injured husband? pic.twitter.com/nQzWlu9Te3

— T. Becket Adams (@BecketAdams) March 14, 2016
Here's part of what she had to say:
So wait — Sarah Palin's husband is hospitalized after a serious accident (which she first called a "little wreck," then changed it to "big wreck"), and that makes her appreciate that we must use time "in doing something so worthy, and that's to get Donald J. Trump elected President?"
What fresh hell is this?
Then Donald Trump steps up to the stage and references Todd Palin like this:
Forget about Todd, especially now?
I am shaking my head.
Twenty-two years ago, my husband underwent some very serious surgery for cancer. I didn't care how important my job was, I was going to be at his side come hell or high water when he emerged from that surgery room. I was the first one to receive the news from his surgeon that "they got it all." I was the first person to present the news to his parents, who had driven from Wichita to Kansas City, that everything was going to be okay.
Forward to late September of 2012, less than two months before the presidential election. I had participated locally in campaigning for Mitt Romney, along with our Representative to Congress. But my mother passed away then, and suddenly all the importance of getting out the vote faded. It was a time when I appreciated my family more than ever, especially my dad, who was completely devastated at the loss of his wife of 65 years.
I have no idea about the nature of the relationship between Sarah and Todd Palin, and I'm not about to speculate. I'm just very, very disappointed that a woman I once admired and viewed as a Christian wife devoted to her family would prefer to campaign for Trump than to be with her ailing husband.
The Pentagon has acknowledged that five Chinese Naval ships are sailing in the Bering Sea off of Alaska at the same time President Barack Obama is visiting…
Tomorrow is Election Day, and as of right now, the Republicans look poised to pick up enough seats in the Senate to gain a slim majority. Between…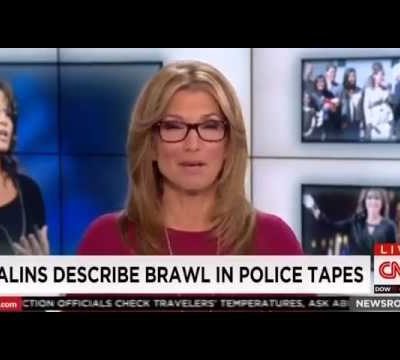 The double standard is staggering and sickening. (See below for UPDATE) As was well covered last month, the Palin family was involved in what has been popularly…
Bad news for Levi Johnston's mayoral ambitions: pretty much everyone in Alaska — and probably the entire world — hates him. PPP polled Alaskans, and guess who…
Stacy McCain has been covering the election results on location in Anchorage, Alaska. The good news? Miller is still in the lead. The bad news? Murkowski has…
Alaska Senator Lisa Murkowski is narrowly trailing Palin-endorsed Joe Miller. She was flirting with the idea of a third-party run, and the Libertarian Party was her only…
The media narrative was that Joe Miller was a long shot candidate. Lisa Murkowski was ahead in the polls. She outspent him and outpolled him. Not many…