The ghouls smelled the blood, and they came running on Twitter. Certainly, while dozens lie dead and loved ones wait to be notified, and while hundreds more are in hospitals, THIS is the perfect time to stand on your political or personal soapbox and show the Internet what a horrible human being you are!
Predictably, Twitter rose to the occasion to prove just how soulless and horrible people with no filters and social media access can be. Some have blue check marks, some don't. All are terrible.

Tariq Nasheed says… white supremacy!
Reports are coming in that Las Vegas shooters are from Mesquite Nv..Thats out there by white supremacist Cliven Bundy and his militia groups

— Tariq Nasheed (@tariqnasheed) October 2, 2017
Terrorist Stephen Paddock being from Mesquite NV, the same place where armed white supremacists pointed guns are LE, is not a coincidence

— Tariq Nasheed (@tariqnasheed) October 2, 2017

Because EVERYTHING is about race. What a vile loon.
Some people deleted their tweets, but screenshots are forever.
I just woke up and this is one of the first thing I saw on Twitter pic.twitter.com/isB6NauCNx

— 🇺🇸 (@SilverTrucking) October 2, 2017
@TheResistANNce why did you delete your account? Didn't want people to see the things you wrote to protect your job?.. As a teacher no-less. pic.twitter.com/RJJlMu3JL4

— James Simpson (@jimmyjackjrs) October 2, 2017
In Las Vegas, another #Trump Fan … NOT an immigrant or Muslim or Liberal, just a 'good ole boy' .. does his thing!

— Watergate_THIS! (@TrikeeOnceMore) October 2, 2017
Your white majority is marginalizing black communities in the US under Trump. Las Vegas is as a direct result of racists like yourselves

— Mark Watson (@MarkWatson1967) October 2, 2017
Las Vegas doesn't need your condolences Mr. trump, Las Vegas (and the rest of the country) needs gun control.

— rachel pollock (@stargazzr_) October 2, 2017
Hmm. A curiously muted Trump Las Vegas 1st response. Wonder why? (White shooter, maybe?)

— James (@RedOwlBlues) October 2, 2017

Speaking of President Trump, his statement had the right kind of presidential somberness and gravity.

As opposed to Senator Elizabeth Warren, who took a straight detour into grandstanding.
Elizabeth Warren's "heartsickness" lasted about a minute and a half pic.twitter.com/xeg0Be48VC

— Stephen Miller (@redsteeze) October 2, 2017
We also need to have the conversation on stopping crime now. 🙄

— Timstagram (@TimothyRyans) October 2, 2017

Or this CBS legal executive on Facebook who can't be bothered to feel sorry for victims, because Republicans.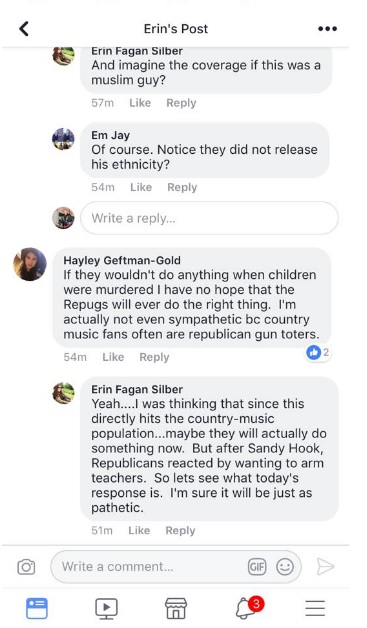 The sad fact is that the numbers of the dead may be increasing.
UPDATE: 58 people are dead, could be 59, and 515 others are injured, says Sheriff Joe Lombardo.

— USA TODAY (@USATODAY) October 2, 2017
"The number of injured, we are using the number of 515," Sheriff Joe Lombardo says of Las Vegas attack https://t.co/27Sph9kNIZ pic.twitter.com/NicShzFHCh

— CBS News (@CBSNews) October 2, 2017

Las Vegas authorities are begging for people to donate blood, and the local community is responding.
The tragic news from Las Vegas has shaken all of us. If you can, please help. Immediately, what is needed most is blood: pic.twitter.com/rEpYOEgM7J

— flippable (@flippable_org) October 2, 2017
The people of Las Vegas are lining up by the hundreds to give blood https://t.co/65I6Z0uZfE pic.twitter.com/ODrrpQo8AO

— WYFF News 4 (@wyffnews4) October 2, 2017

Pray for the victims and their families, give blood if you can, and for the love of all that is holy and decent, stay off Twitter.
(Visited 4,170 times, 4,170 visits today)