The bizarre story surrounding reporter Kurt Eichenwald took an interesting turn in the last couple of days.
The FBI has arrested a man accused of sending Dallas reporter Kurt Eichenwald a tweet that triggered an epileptic seizure.
The agency announced that John Rayne Rivello, 29, of Salisbury, Md., was arrested Friday morning in Maryland on a cyberstalking charge.
To recap: In December Eichenwald engaged in a debate with Tucker Carlson…and lost.
Quite frankly, it was one of the craziest things anyone has ever witnessed. Yet, that was just the tip of the crazyberg for Eichenwald. He went on a tweet storm that just boggled the mind. For example:
@cdw @LilMissRightie lol did I screenshot.. pic.twitter.com/V2V2jJnvNZ

— Nick Short (@PoliticalShort) December 16, 2016
Kurt Eichenwald has now reached "imaginary people are threatening my family" stage again. pic.twitter.com/dcxWRt2Hgm

— Alan Smithee (@ActualFlatticus) December 16, 2016
And then this happened:
@jew_goldstein This is his wife, you caused a seizure. I have your information and have called the police to report the assault.

— Kurt Eichenwald (@kurteichenwald) December 16, 2016
Given how Eichenwald handled himself during the interview with Carlson, can you blame anyone for being skeptical? Can you blame anyone for thinking he's crying wolf?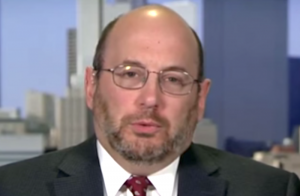 Fact is, Eichenwald was diagnosed with epilepsy in 1987. It's not something that is easy to live with, in fact it's like always waiting for the other shoe to drop, but it is manageable and people live full and successful lives.
However, the person WITH epilepsy must follow some strict guidelines in order to do their part as well. That includes taking medications on a very regular schedule, getting enough sleep, exercise, eating right (more veggies and protein, less junk food and caffeine), no alcohol, keeping away from epilepsy triggers such as strobe lights at movies/concerts/visuals on laptops, and as little stress as possible. How do I know all this? I have a daughter who was diagnosed with epilepsy just two years ago and the above are the key tenets in living a successful life in spite of epilepsy.
That said, can anyone who lives with epilepsy in any way shape or form, look at the video above and not think Eichenwald is a candidate for bringing on his own seizures?
However, if someone ADDS to that stress, that can make matters worse. And, as we now find out, the person who sent the strobe .gif to Eichenwald did so with malice. 
According to a criminal complaint, messages sent from Rivello's Twitter account mentioned Eichenwald, saying "I know he has epilepsy," "I hope this sends him into a seizure" and "let's see if he dies."
Eichenwald's response to the arrest?
I want to thank Dallas Police, Dallas DA, US Attorney in Dallas, the FBI & the Dept of Homeland Security who all played a role in this case.

— Kurt Eichenwald (@kurteichenwald) March 17, 2017
Press release from US Attorney on the arrest, which will answer some questions. pic.twitter.com/9rbiLFJtOo

— Kurt Eichenwald (@kurteichenwald) March 17, 2017
Here's the thing. Epilepsy and the seizures that accompany it are no laughing matter. There are multiple forms of epilepsy and each person with epilepsy can manifest different types of seizures. Currently my daughter has dealt with 5 different types of seizures, some we see and some we never know about unless she's hooked up to an EEG. That said, the seizures we've seen can take a lot out of a person. For example, a Grand Mal seizure can be equated with someone running a full marathon in less than 5 minutes. I kid you not.
Again, as stated above, those who live with epilepsy do so successfully by following some key guidelines. If Rivello did try to induce seizures, then it will be interesting to see what the charges are. However, as I also pointed out, Eichenwald's behavior prior to that tweet being sent (the interview with Tucker and the tweet storm Kurt engaged in) could also have aided in triggering a seizure.
Needless to say, this is a case worth keeping track of. If only for the fact that the authorities, the legal system AND Eichenwald will have to prove that it was ONLY the .gif that caused his seizure and nothing else.
(Visited 3 times, 3 visits today)