Reuters is reporting that a speeding car jumped the sidewalk in Times Square today. One person is reported to be dead with twelve more people injured. The accident happened during lunch time at the corner of 45th and Broadway. Times Square is known as "the crossroads of the world" and is heavy with tourists any time of the year. Police do not believe the accident to be terrorism.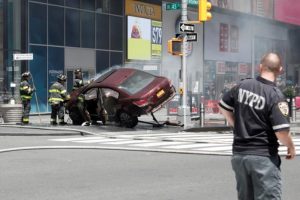 The vehicle was a red Honda sedan and CBS New York Television said the driver had been removed. Television footage showed police officers restraining a man in a dark T-shirt and placing him in a police car.

Witnesses said the motorist had driven against traffic and onto the sidewalk, striking pedestrians.
The man is custody appears to be a young man of color.
The Wall Street Journal is reporting that the man in custody is a 26-year-old from the Bronx.
The driver of the car was identified as a 26-year-old male from the Bronx with two previous DWI arrests, according to a law-enforcement official. He was taken in to custody.
At nearly the same time, a two car accident in Staten Island left 11 persons injured.
Police are investigating, but neither incident appears to be terror related.
In one of the most infuriating, mind-boggling, idiotic things to come out of a politician's mouth, Bloomberg has just announced that he doesn't want the National Guard…