Ahh labels. Such interesting things labels are. Especially when you tie labels and politics together. These days, one can't be either for or against an issue without being labeled. One is unable to ask questions about an issue, a law, or an agenda without being labeled. In fact, labels are now being used as a battering ram to shut down discourse or alienate those who said, did, or believe the "wrong thing." Think I'm wrong? Remember this from Hillary that Toni eviscerated last fall?
It seems that Elle Magazine in all it's trendiness or something, has decided that conservative women have moved beyond "Deplorable" to "Problematic." Last week they asked this burning question: "How Do We Criticize Problematic Women?"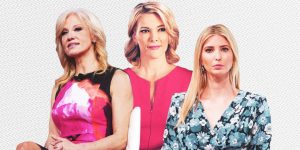 The article, mostly a diatribe against Megyn Kelly, had this to say.
In fact, Kelly is part of a flotilla of unsympathetic ladies who have been thrust into prominence during the Trump administration. There's the Instagram feminism and message-tested complicity of Ivanka Trump—who is often cast as a spoiled bimbo, rather than the canny and ethically bankrupt opportunist she appears to be. There's Melania, a long-time apologist for her husband's birtherism. There's Kellyanne Conway, and the Internet's brief yet fraught debate about what feminism owes her.
As a conservative woman I've long despised third wave feminism and the effects it is having on our society, but this newest study is both terrifying and…
Remember Julia? The cartoon, faceless and fictional woman created by the Obama campaign last year to illustrate the necessity of government intervention in everyday life? Julia became…
conservative women tend to be very happy women. we embrace the principles of individualism and self-reliance as opposed to the left's concept of group think. besides being…