Saturday brought to the world the Merger from Hell: the Nigerian Islamic terror group Boko Haram has pledged their allegiance to the Islamic State (ISIS), a move that BBC reporter Jim Muir says "makes them look more like a global franchise." The pledge was attributed to Abubakar Shekau, the leader of Boko Haram. US intelligence estimates that ISIS may be gaining between 4,000 – 6,000 fighters.
Boko Haram took to Twitter to announce their news.
https://twitter.com/mjamiu80/status/574303173592137728
And here's a tweet from this jihadi, who includes a rousing video:
#BokoHaram's Abubakar Shekau formally pledges allegiance to #IslamicState Group's Abubakar al-Baghdadi. http://t.co/LIIccQWuh3

— Muktar (@JanguzaArewa) March 7, 2015
Not bad for a JV team. 
Boko Haram is only the latest fish to be hauled in by ISIS. In addition to terror groups from northern Africa and the Arabian peninsula, a Taliban group from Pakistan pledged its allegiance to ISIS. At the end of 2014, a senior jihadi leader from Dagestan pledged his allegiance to the head of ISIS, Abu Bakr al-Baghdadi.
Boko Haram terrorists have made a name for themselves in Nigeria by kidnapping civilians, executing hostages, and destroying villages. They leave in their wake dead inhabitants and decimated towns such as Baga: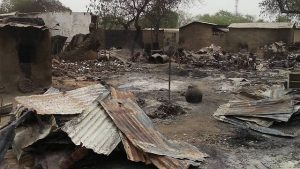 The Islamic State has also been making headlines in terms of destruction, only it's been adding historical sites and art treasures from Iraq to its conquests. Their most recent demolition project was the 2,000-year-old city of Hatra, 68 miles southwest of Mosul, which earlier saw destruction of their library and artifacts from their museum.
This last week of United States diplomacy has been an exercise in hypocrisy and ignoring reality. First, the White House had a snit fit that Israel's prime…
"They thought that the bullets would silence us. But they failed," she said. "And then, out of that silence came thousands of voices. … Weakness, fear and…
In an update to the ongoing story of the kidnapped Nigerian school girls, the BBC is reporting (courtesy of a video obtained by French news agency AFP)…
Just when I thought the Nigerian schoolgirl story could not get any more bizarre, I am proved wrong by former Secretary of State Hillary Clinton. It seems…
As if we needed any reminders that radical Islam is the enemy of any female on the planet, Boko Haram and its leader Abubakar Shekau has seen…