It's not enough that the slimy underbelly that is Hollywood has had a bright nasty light shown on it. Nope. All of y'all persist in showcasing the left as if they are magical beings who are the ONLY people who matter in this country. Case in point? This announcement.
Sandra Bullock will star in the spec "Let Her Speak" as Texas senator Wendy Davis, whose 11-hour filibuster helped stall an anti-abortion bill in the Texas state house.

Todd Black and Jason Blumenthal are on board to produce through their Escape Artists banner.

At the time, Davis was a little known Democratic senator who soon became a national icon on the subject of abortion after filibustering for 11 hours in order to stall a bill, and ultimately delaying its passage beyond the midnight deadline for the end of the legislative session. The bill would have included more restrictive abortion regulations for Texas and would have closed all abortion clinics in the state.
Everyone in Hollywood will tout this as a blockbuster. But reality called $$ will bite HARD. It will tank just like the misguided Valerie Plame movie did. Or worse.
Who is Wendy Davis? We've written about Abortion Barbie more than a few times. A few samples are here, here, here, and here. 
Needless to say, I have to wonder how the script will portray Wendy, "Abortion Barbie" Davis? Will they go with the fawning Vogue story she helped peddle?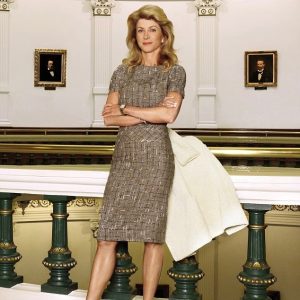 The Wendy Davis "Abortion Barbie" Campaign Show continues.  Wendy Davis, Gubernatorial Candidate for Texas, best-known for her June 2013 filibuster of an anti-abortion bill on the Texas…
The poor femisogynists of America should prepare themselves for disappointment. As the absolutely disastrous campaign Wendy Davis has been running in Texas has continued to be a…
Last summer, Wendy Davis famously stood in front of the Texas legislature for eleven hours, filibustering a bill that would outlaw abortions after 20 weeks of pregnancy….
Wendy Davis is feeling the heat from the unfortunate outing of her life story. Far from being the struggling single mother who got divorced as a teenager,…