When it comes to the lives of humans vs. animals, most people get it right. They understand that a human being intrinsically has more value and worth than an animal does. But then there are the nutjobs who don't quite understand that basic truth. And that idiocy was on full display this weekend. On Saturday, a gorilla named Harambe was killed at the Cincinnati Zoo. He was killed because a four-year-old boy fell into the enclosure. Zookeepers originally tried to call the gorillas out of the exhibit; the two female gorillas did, but Harambe did not, dragging the boy around the exhibit instead.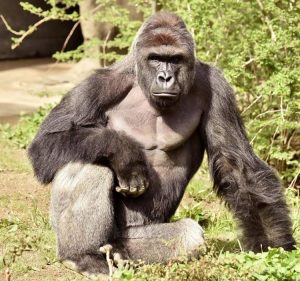 You can see footage of the terrifying ordeal in this video:
You can hear the boy's mother calling to him, urging him to keep calm and reassuring him that she loves him. It's heart-wrenching to hear.
Zoo officials explained that they considered using tranquilizers to subdue Harambe, but the gorilla wasn't being aggressive with the boy at that moment. Tranquilizers take some time to take effect, and being shot by a tranquilizer dart would understandably upset the gorilla, which could put the boy in even more danger than he was already in. They made the difficult decision to shoot and kill Harambe in order to keep the boy safe. In a statement, zoo officials explained why they made the decision that they did:
"We are heartbroken about losing Harambe, but a child's life was in danger and a quick decision had to be made by our Dangerous Animal Response Team," said Zoo Director Thane Maynard. "Our first response was to call the gorillas out of the exhibit. The two females complied, but Harambe did not. It is important to note that with the child still in the exhibit, tranquilizing the 450-pound gorilla was not an option. Tranquilizers do not take effect for several minutes and the child was in imminent danger. On top of that, the impact from the dart could agitate the animal and cause the situation to get much worse."
The child was taken to the hospital and released Saturday night. While for most people, this would be a relief, there were plenty of people quick to criticize and place blame on the parents for the tragic incident.
This story has been weighing so heavy on me all day, heartbreaking. @CincinnatiZoo killed #Harambe 💔😢 pic.twitter.com/8dn3oEGsyt

— Ayydé™ (@idayallday) May 30, 2016
Beautiful animals sadly paying for utter human stupidity and negligence with their lives.#Harambe #CincinnatiZoo pic.twitter.com/4wnkYH1TWn

— Chris Dusauchoit (@DusauchoitChris) May 29, 2016
Truth💯 #CincinnatiZoo #JusticeForHarambe pic.twitter.com/4PhCuIlbxl

— HooliganKenda (@clubchic29) May 30, 2016
These Idiotic Parents should be investigated 4 Parental neglect what a shame #Cincinnati Zoo https://t.co/gdFWYyDzQ2 https://t.co/ZzNWHZh4u2

— Zendaya's ShoesRule (@myfeetonfleek) May 30, 2016
"Mommy loves you"
"Mommy's right here"
If you were "right here" your feral child would not have climbed the barrier. https://t.co/UXyACr9bB4

— andieiam (@andieiamwhoiam) May 30, 2016
Protestors outside Cincinnati Zoo, demanding action for #Harambe, Gorilla shot after child fell in enclosure. @WLWT pic.twitter.com/DZNlP7AcZ7

— Tammy Mutasa (@TammyMutasaWLWT) May 29, 2016
Humans imprison gorilla. Human enters gorilla prison. Gorilla gets shot dead for being near human. Humanity is a disease.

— daniel (@13forests) May 30, 2016
And the award for the most idiotic take on the situation obviously goes to this guy:
Killing an endangered gorilla at a zoo for a white boy's safety is white privilege. If the boy was black they would've found a tranquilizer.

— Hood Intellect (@NelsonEmpowered) May 29, 2016
Over 100,000 have also signed a petition demanding that authorities investigate the parents for negligence, and for them to be prosecuted. But were the parents negligent? According to an eyewitness account, no:
None of us actually thought he'd go over the nearly 15 foot drop, but he was crawling so fast through the bushes before myself or husband could grab him, he went over! The crowed got a little frantic and the mother was calling for her son. Actually, just prior to him going over, but she couldn't see him crawling through the bushes! She said "He was right here! I took a pic and his hand was in my back pocket and then gone!" As she could find him nowhere, she lookes to my husband (already over the railing talking to the child) and asks, "Sir, is he wearing green shorts? " My husband reluctantly had to tell her yes, when she then nearly had a break down! They are both wanting to go over into the 15 foot drop, when I forbade my husband to do so, and attempted to calm the mother by calling 911 and assure her help was on the way. Neither my husband or the mother would have made that jump without breaking something!

… This was an open exhibit! Which means the only thing separating you from the gorillas, is a 15 ish foot drop and a moat and some bushes! ! This mother was not negligent and the zoo did an awesome job handling the situation!
Parents can only do so much to keep their children safe. The truth is, parents can never truly be in control of their children. In the time it took for this mother to glance away, her son went missing. She knew he was gone, and was searching for him. Anyone who is a parent knows that in a split second, disaster can strike.
Consider the story of Rob Duke. When he was three years old, he went with his family on a vacation to Florida. He disappeared while they were at the beach. His mother was setting up chairs on the beach while his father watched their three children. She asked him a question; he turned to answer her. In that second, Rob disappeared. They ultimately found him, and like this boy, he miraculously survived — Rob had fallen into a sand hole that caved in on him, burying him completely. In both situations, the parents looked away for only a split second. That's all it takes. One second to look away, and it could mean life or death. It doesn't mean that anyone has been negligent. But in today's culture, a culture that requires parenting perfection, of course people are demanding that the mother be blamed. Parents aren't allowed to ever look away, or make a mistake, or be anything less than 100% attentive. And then they deride mothers for helicopter parenting. It's literally a lose-lose situation. Nothing a mother does can ever be good enough, and when something goes wrong, it's always solely the mother's fault. (For some reason, people don't seem to hold fathers to nearly as high a standard.) And in this case, because the mother looked away for a second, her son was in danger and a gorilla died.
Anyone who was a parent should be able to understand. You take a shower and emerge to find your child has climbed on top of the refrigerator; you go to the bathroom and the kid has managed to unlock the front door and get out. Parents can't be hyper-vigilant. They can't watch their children every second of every day. Anyone who thinks that a parent can control their child 100% of the time must not have kids, because it's a ludicrous thought. And yet here we are, with people giving this woman death threats and demanding that she be shot, too, because Harambe's death demands justice.
Where are the people demanding answers as to why a child could so easily get into the gorilla enclosure? In any other circumstance, they would be demanding answers from the zoo. The media would be running stories about the danger of zoos with 40-year-old enclosures, asking you, "Is your zoo safe? Tonight at 11!" But no, in today's upside-down world, they demand the mother's head on a pike instead. Some people are even planning a vigil for the gorilla. A Facebook page titled Justice for Harambe has been created with truly disturbing content.
The mother, meanwhile, has responded and slammed people criticizing her parenting, and thanking zoo officials for acting so quickly to save her child's life.
But perhaps the most disturbing aspect of the reaction to this story is that there is any doubt whatsoever that zoo staff made the right decision. The safety of a human being, a child, was at risk. When it comes to saving the life of a child vs. saving the life of an animal, the human being's life always takes precedence. A person's life has intrinsic value that an animal's does not. Animals are valuable creatures, and we must be good safeguards of them as much as possible. But people are more valuable. An animal does not have a soul. And no animal comes close to the intelligence that human beings possess; no animal has been able to accomplish what human beings have accomplished. If it ever comes down to a human or an animal, the right answer is always the human.
The entire situation at the Cincinnati Zoo is a tragedy, but it could have been so much worse. It's entirely understandable for people to mourn the death of Harambe, but it was still the right thing to do. It wasn't because the mother was neglectful, or because the kid was a brat. It was an accident, and unfortunately, accidents happen sometimes, especially when it comes to children. There should be no question as to whose life is more valuable, no question as to what zoo staff should have done. In an extraordinarily difficult situation, they made the right call and saved a human's life. No matter what the situation, no matter who might be to blame, a child's life will always be worth more than a gorilla's. It's just sad that so many people can't understand that.
(Visited 17 times, 17 visits today)