Last week, on her MSNBC program "The Reid Out", Joy Reid dragged Senator Tim Scott for adding a "patina of diversity" to the Republican party. It was during a discussion with Washington State's Bernie Socialist, Congresscritter Pramila Jayapal. They were critiquing a press conference, by John Thune, on the minimum wage when Reid called the South Carolina Senator.
The White House Press Corps was hosed from Day One. So goes the narrative from New York magazine. They were beleaguered under President Trump.
Peggy Noonan is the grande dame of Republican women pundits. Not only was she a speech writer for President Ronald Reagan, she's also written bestsellers, including some…
Vice President Mike Pence was to attend a fundraiser for President Trump in Bozeman, MT, but on Saturday dropped the plans. Perhaps he thought attendance would not…
Ariana Pekary used to be a producer at MSNBC. You don't know her name, but after today, you should. Pekary just quit her job at MSNBC, and…
When MSNBC's Joy Reid is not running her mouth on homophobic blogs, she is tweeting in defense of Antifa. Seriously. One may wonder, why on Earth is…
Chris Hayes, of MSNBC, went on a rant against virtue signalling Trump supporters who refuse to wear a mask. He called the mask wearing refusal a "kind…
MSNBC host and Never Trumper, Nicolle Wallace, opened her pie hole and slammed President Donald Trump for his tweeting support for the Covid-19 anti-lockdown protests. Miss Wallace…
In a move that NO ONE saw coming, veteran broadcaster Chris Matthews announced he was retiring from MSNBC effective immediately.
Who saw this coming? Far left MSNBC pundits shed liberal tears after Bernie Sanders took the Nevada caucus. This seems counter-intuitive, I know, but apparently Bernie was not…
In case you had any suspicions, rest them now: MSNBC's Rachel Maddow has lost her mind. So have CNN's Don Lemon and Chris Cuomo. What drove them…
The media has been salivating over impeachment ever since President Trump was sworn into office. Now that all their fever dreams have become reality, the media has…
A former Federal prosecutor claimed on MSNBC yesterday, that the "rats" are jumping ship from the Trump White House. This based on a Washington Post article that…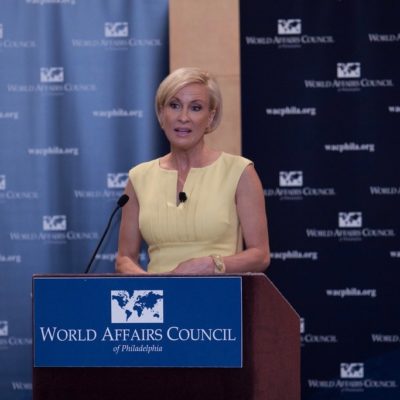 It all started with a conversation about vaping and some very bizarre comments from President Trump this week about "Melania's son", Barron. Of course, it did not…
The tantrums from the media after the Mueller report dropped have been just as bad or worse than the ones we witnessed after Trump won the election….