Originally posted at David Horowitz's Newsreal:
The media narrative is focused completely on the people who oppose the Ground Zero mosque. The mosque's opposition has focused almost exclusively on Imam Rauf. But what about the actual developer of the mosque? Sharif Al-Gamal is its developer, and he doesn't seem like such a trustworthy guy. On top of having been arrested seven times, it turns out that Al-Gamal is also a tax cheat.
The New York Post reported that Al-Gamal owes over $200,000 in back property taxes on the proposed mosque site.
The mosque developers are tax deadbeats.

Sharif El-Gamal, the leading organizer behind the mosque and community center near Ground Zero, owes $224,270.77 in back property tax on the site, city records show.

El-Gamal's company, 45 Park Place Partners, failed to pay its half-yearly bills in January and July, according to the city Finance Department.

The delinquency is a possible violation of El-Gamal's lease with Con Edison, which owns half of the proposed building site on Park Place. El-Gamal owns the other half but must pay taxes on the entire parcel.
We've established a lot of troubling information about the people behind this Ground Zero mosque. You've got Imam Rauf, an advocate for sharia in America. Now it appears that the developer has a long record of multiple arrests and is a tax cheat. Yet somehow, Al-Gamal is getting the money to pay millions of dollars for this and other New York City properties over the last year.
Why isn't anyone investigating this? We've got some very suspect Muslims wanting to build a mosque at the spot where Islamic terrorists have left a lifetime imprint of jihad in America. These two men aren't exactly coming across as trustworthy, moderate Muslims, yet New York bureaucrats are falling all over themselves to ensure that this mosque is built. Speaker of the House Nancy Pelosi even said she wanted to investigate the people who opposed the mosque, and not the developers of the mosque itself!
Where is the mosque developer getting the money for this project? Why are they so set on building a mosque at Ground Zero? How do we know that Imam Rauf or Sharif Al-Gamal don't have ties to Islamic terrorist groups in the Middle East? We have the answers to none of these questions, yet lefty politicians are ready to go full-speed ahead with this mosque. It's a disgrace. These are questions that we need to know the answers to, and we need them before this mosque is allowed to be built.
9-11, one of the darkest days in American history, happened less than ten years ago. Part of the reason why it happened was because we as a country were blissfully unaware of the dangers of Islamic terrorism. Have we really learned so little since then?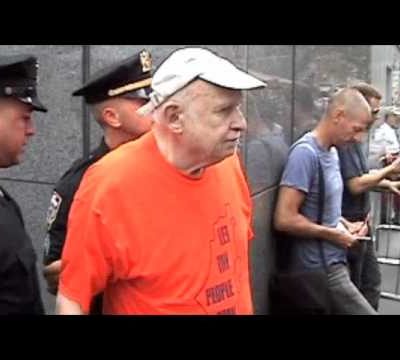 Originally posted at David Horowitz's Newsreal: The running meme on the Left has been that Americans who oppose the Ground Zero mosque are bigoted, anti-Islamic hatemongers. No…
Amidst all of the Ground Zero mosque controversy, people have forgotten how much has yet to be rebuilt at Ground Zero. Consider the case, for example, of…
I first saw this story over at The Other McCain's place, and wow — Nancy Pelosi is completely and totally out of line here. But then again,…
Considering all of the controversy swirling around the Ground Zero mosque, this is a somewhat unsurprising turn of events — and of course, the right thing to…