The nation has been in an absolute tizzy since the infamous performance of "Hamilton" where Mike Pence was dissed from the stage by the cast.
His boss, President-elect Donald Trump, first demanded that the cast apologize to Pence. He then issued another tweet this morning at 5:22 a.m. (does that man ever sleep?), again demanding an apology.
The cast and producers of Hamilton, which I hear is highly overrated, should immediately apologize to Mike Pence for their terrible behavior

— Donald J. Trump (@realDonaldTrump) November 20, 2016
Twitter was en fuego on Saturday with the trending hashtag #BoycottHamilton.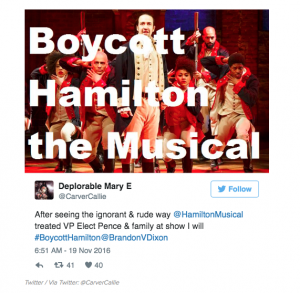 Even rocker Stevie Van Zandt, a member of über-liberal Bruce Springsteen's E-Street Band, called out the cast for bullying Pence. Van Zandt's politics, like Springsteen's, are the polar opposite of Pence's views, yet he found the "Hamilton" cast behavior to be "a terrible precedent." He even requested that playwright Lin-Manuel Miranda issue an apology to Pence.
Lin-Manuel is a genius. He has created the greatest play since West Side Story. He is also a role model. This sets a terrible precedent>

— Stevie Van Zandt (@StevieVanZandt) November 19, 2016
When artists perform the venue becomes your home. The audience are your guests. It is nothing short of the same bullying tactic we rightly>

— Stevie Van Zandt (@StevieVanZandt) November 19, 2016
And Mike Pence?
He was asked about the incident by Chris Wallace on Fox News Sunday. He was gracious, magnanimous, and his demeanor was. . . dare I say it? Presidential.
https://youtu.be/NDsvnMtVS5w
Give "Hamiltongate" a day or two, and all this will blow over as another scandal or outrage — contrived or not — will draw fresh attention to new battles of political gamesmanship. I am convinced of one thing, however: for all his warts, Donald Trump picked the right man to serve as his Vice President.
Now that she is the Anointed One Democrat nominee for president, Hillary is having to make the rounds of the Sunday morning news shows. Fox News managed…
Fox News Sunday landed quite the guest for the show this morning. It took some doing though… 8 years worth of persistence. So how did Chris Wallace…
The war of words continues!! This time the feud between Donald Trump and Jeb Bush moved from Twitter to the Sunday morning talk shows. All of this on…