As I am sure everyone knows by now, NBC's Brian Williams lies. He could in fact be the compulsive liar in old Saturday Night Live skits. Except for the fact that he was a newscaster who was supposed to report the news and not tell fish stories. To compound the problem, instead of being a grownup and taking some responsibility for his actions, according to Vanity Fair, he could not admit to making a giant mistake. He continued to lie.
'Did something happen to [my] head? Maybe I had a brain tumor, or something in my head?' He just didn't know. We just didn't know. We had no clear sense what had happened. We got the best [apology] we could get."
Seriously? There is no maybe with a brain tumor. It is life changing and all too often life ending. This is not a story prop or a joke.
And that was a problem. Because the apology Williams read on the air that evening not only failed to limit the damage to his reputation, and to NBC News, its elliptical wording—"I made a mistake in recalling the events of 12 years ago"—made a bad situation worse, inflaming a crisis that led a week later to Williams's suspension for six months.
Oops I made a mistake? Seriously? Gee you told that story over and over and over again. Then when caught in your web of lies, you tried coming up with a brain tumor as an excuse? Um no. Mr. Williams, if you live in a fishbowl, be aware of what you say and what the impact is. People fact check and how you respond next tells who you are and where your values are. More from Vanity Fair:
Williams took the anchor chair in December 2004, after a career handling the news at local stations and MSNBC; though he had worked as NBC's chief White House correspondent for two years, he was never a foreign or war correspondent. He was deeply insecure about this, some of his friends believe. These people suggest that his storied broadcasts from New Orleans in the aftermath of Hurricane Katrina, which proved a boon to his ratings, were in part an effort to overcome the perception that he was a journalistic lightweight. In his first years on Nightly News, several colleagues say, Williams's weaknesses were kept in check by other strong figures at the network, from Brokaw and Russert to Capus and a Nightly News executive producer named John Reiss. With the departures of each of these men, especially Russert, who died in 2008, Williams slowly consolidated his power.
And then there were previous embellishments and lies that became public:
A hint of the trouble to come, and of the tensions among the marquee players, was on display at a charity gala in Greenwich, Connecticut, the week before Horowitz's firing. The evening honored Tom Brokaw's work for the Multiple Myeloma Research Foundation, which helps fight a cancer from which Brokaw suffers. "The lowest of lows had to be that dinner," says one former NBC executive. "It was a huge deal for Tom. The world turned out. Tom was devastated to find out that Pat Fili, who is just so blind to the relationships and what really went on, told the people putting on the dinner that it would be great to have Brian introduce Tom. That was the last thing Tom wanted. And then Brian started off telling stories. He told the Berlin Wall story. Well, this sent Tom into spasms of anger."

The "Berlin Wall story" was one Williams has long told—and apparently embellished—about the time he and Brokaw visited the Berlin Wall, in 1989. "This is the perfect example of what Brian does," says a former NBC executive who worked closely with Williams for years. "He will say, and I've heard this a hundred times, 'When Tom and I were at the Berlin Wall … ' O.K., so when he tells that story, he kind of implies that when the wall fell he was there with Tom. But he wasn't. He was there the next day. It wasn't malicious—it's just Brian being Brian. It's the part of Brian's personality that bothers Tom the most."
Will Ferrell's movie Anchorman was never meant to be an instruction manual for a news crew. But Brian Williams apparently decided to be a real life version of Ron Burgundy.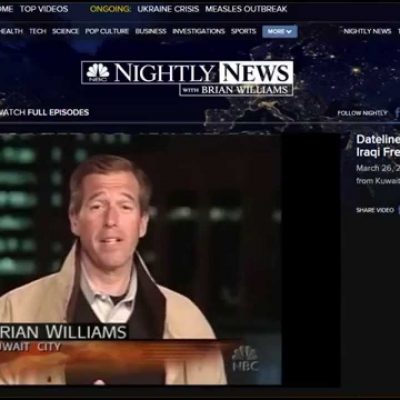 Happy Saturday, everyone! Let's take a look at some follow-ups to some news stories for this week. First of all, the Brian Williams debacle is not going…
Remember the touching tribute last Friday on NBC Nightly News when Brian Williams was reunited with one of the soldiers who provided ground cover after the helicopter…