The name Boris Nemtsov is not well-known to Americans. A former deputy prime minister, Nemtsov was a visible critic of Vladimir Putin. Today, he was shot and killed in Moscow.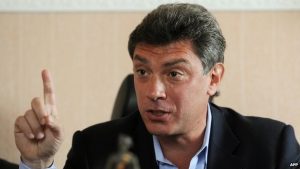 Interior Ministry spokeswoman Yelena Alexeyeva told reporters on the scene that Nemtsov was walking with a female acquaintance, a Ukrainian citizen, when a vehicle drove up and unidentified assailants shot him dead. The woman wasn't hurt.

Opposition activist Ilya Yashin said on Ekho Moskvy radio that he last spoke with Nemtsov two days before the killing. Nemtsov was working on a report presenting evidence that he believed proved Russia's direct involvement in the separatist rebellion that erupted in eastern Ukraine last year.
Nemtsov was quite aware that by speaking out against Putin, he was putting a target on his own back.