One of our longtime readers and occasional guest blogger GWB sent us this "gem" of a story regarding the University of Michigan's latest foray into the SJW (social justice warrior), diversity, inclusiveness stupidity that is running amok on campuses these days. Without further ado, I give you Pick Your Personal Pronoun!
Starting this week, University of Michigan students are able to designate a personal pronoun with the university and have the pronoun reflected on class rosters this fall.

The move is another way the university is fostering an environment of inclusiveness, according to an email to students and faculty members on the Ann Arbor campus from Provost Martha Pollack and Vice President for Student Life Royster Harper.

A designated personal pronoun is a pronoun an individual chooses to identify with and expects others to use when referencing them (he, she, him, his, ze, etc.).

Students can designate pronouns in Wolverine Access through the new Gender Identity tab within the Campus Personal Information section. This page can be used to enter, update or delete pronoun information.
Yes indeed. In order to further elevate a student's self esteem and ensure that nobody will ever be accidentally insulted, all the special snowflakes on campus can access the Wolverine link online and inform the college of how they wish to be addressed.
The Church Lady said it best.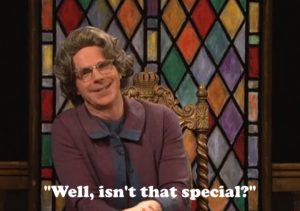 [click to continue…]
{ 0 comments }