When people see this headline, they are likely to think that Lori Robinson is taking command of a rough and tumble infantry or combat arms ground unit. In fact, Secretary of Defense Ash Carter didn't really try to change that impression when he said,"Gen Robinson, it just so happens, would also be the first ever female combatant commander." However, Lori Robinson is a four star general in the Air Force, which has a distinct absence of ground combat units. She will be taking charge of US Northern Command based in Colorado. Not trying to take anything away from General Robinson; it is great that she has risen on her competency and merits to this high profile command position, and she is a fantastic role model for other women who wish to have a rewarding military career.
Air Force General Lori Robinson will be appointed as the next head of the US Northern Command (NORTHCOM), which is responsible for the defense of the US "homeland" with an area of operations that extends from Alaska to portions of the Caribbean.

The command was created in the aftermath of the 11 September terror attacks to coordinate and improve homeland defence and to provide support for other national disasters.
This promotion rewards this woman's accomplishments and can serve as a guide to all services that women should be considered for command positions generally. Simply being a woman does not make someone ineligible for command. Women as are capable as men as serving with honor and distinction in the role of a commanding officer. Further, any command that has a corresponding component of high level management in a stressful environment such as a combat theater should be given equal weight as those commands that incorporate combat arms missions.
The reason for pushing women into combat started off as being a beef about women not having the same promotion opportunity as men. Men, who were eligible for commanding combat units, were able to gain an advantage in the promotion process. This was true for any man – if he was able to gain combat leadership experience his resume would be much stronger than another man who had command experience but who was not in a combat arms unit. So the military culture rewards those who have proven themselves in a combat environment – not surprising, and not necessarily an unfair result. If a man wants a combat arms position he must compete for it. If he doesn't want it, then he goes in with the understanding that his career opportunities will be affected accordingly. In the past this has been a significant issue just within male promotion opportunities – so men fight to get combat arms specialties, and combat theater assignments.
I just read this article: Including women in Selective Service could be the best way to prevent unnecessary wars The author attempts to make the point that…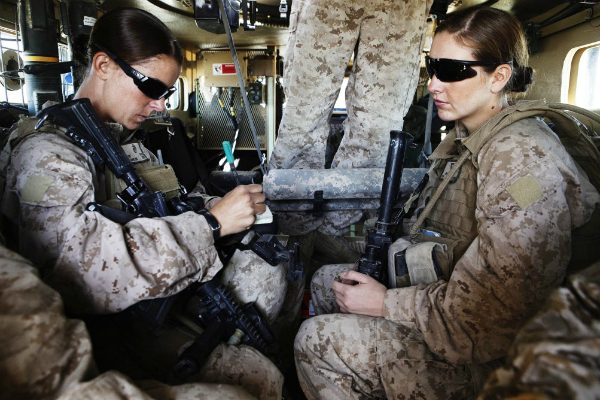 Coming soon to a recruit depot near you: Marine Corps gender integrated basic training! What a recruiting tool that will be. I'll bet recruiters the nation over…
On Thursday, Defense Secretary Ash Carter announced that all combat positions without exception would now be open to women. The announcement is not unexpected, but is likely…
Feminists just cannot stand when us evil, sexist, misogynist jerks mention the biological fact that women are weaker than men in the whole "should women be in…