The Washington Post, in a heroic act of actual journalism, has an exclusive story on the Democratic National Committee (DNC) and Hillary Clinton 2016 Presidential Campaign and their relationship with the infamous Trump Dossier. From the article:
The Hillary Clinton campaign and the Democratic National Committee helped fund research that resulted in a now-famous dossier containing allegations about President Trump's connections to Russia and possible coordination between his campaign and the Kremlin, people familiar with the matter said.

Marc E. Elias, a lawyer representing the Clinton campaign and the DNC, retained Fusion GPS, a Washington firm, to conduct the research.

After that, Fusion GPS hired dossier author Christopher Steele, a former British intelligence officer with ties to the FBI and the U.S. intelligence community, according to those people, who spoke on the condition of anonymity.
Even better, Laura Ingraham was on "Special Report with Brett Baier" and laid it out for us all.
Not since "Casablanca" has there been a more oleanginous cast of characters. The Kremlin feeds information to Fusion GPS and Christopher Steele:
Steele previously worked in Russia for British intelligence. The dossier is a compilation of reports he prepared for Fusion. The dossier alleged that the Russian government collected compromising information about Trump and the Kremlin was engaged in an active effort to assist his campaign for president.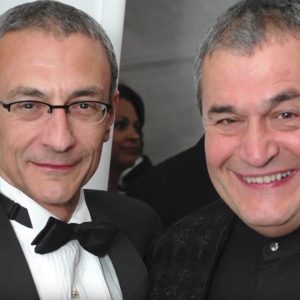 The dossier is full of disgusting things (Golden Showers) and only deluded Clinton lickspittles and "Never Trumpers" would buy the cow excrement the Kremlin was selling. Lickspittles such as John Podesta, the Chairman of the 2016 Hillary Clinton Presidential Campaign and founder with his brother Tony, of the Podesta Group. Tony Podesta worked with some Russian groups. Here is Tucker Carlson from Fox News just tonight.
https://www.youtube.com/watch?v=3c3bWIs4hI0
Does that sound like they need to fire everyone at the State Department? And, why on Earth would we sell 20% of our uranium to anyone? Why was Paul Manafort working with the Podesta Group? What a slimy piece of work. Congressman Devin Nunes (R-CA):
subpoenaed Fusion GPS's bank records to try to identify the mystery client.

Fusion GPS has been fighting the release of its bank records. A judge on Tuesday extended a deadline for Fusion GPS's bank to respond to the subpoena until Friday while the company attempts to negotiate a resolution with Nunes.
What does Hillary Clinton say about all of this? Well, nothing today, but just last month Mrs. Clinton told USA Today that she believed Putin and Trump colluded to ensure that she lost the 2016 election. The New York Post quoted Mrs. Clinton:
Last week Toni gave her list of six people Fox News needs to fire. I'm going to turn the tables today, telling you whom I think needs…
After three straight debates as an undercard, Louisiana governor Bobby Jindal has decided to stop. He made the announcement during an interview with Fox News' Bret Baier….
While visiting Bret Baier's Special Report on Thursday evening, Marco Rubio was asked about his comments on Iran, which have made quite the splash. Rubio's strongest point…