Robert F. Kennedy Jr., who has ridden the prestige of his family name his entire life, decided some years ago to take up with anti-vaccination loons and is now busy promoting a book and a movie about the dangers of thimerosal, a mercury-based preservative that is no longer used in vaccinations. He is also protesting against SB 277, a bill being currently debated in the California state legislature, which would get rid of the "personal belief" exemption waiver, which allows parents to send their children to public schools without being vaccinated. The bill would also require that children be immunized for measles and whooping cough to attend public schools in California. This bill was created in response to the Disneyland measles outbreak of last year, and the ongoing whooping cough epidemic.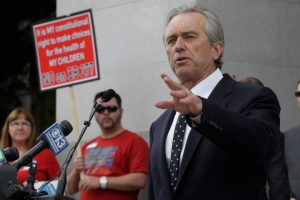 While promoting the film "Trace Amounts" in Sacramento, Kennedy made this statement:
"They get the shot, that night they have a fever of a hundred and three, they go to sleep, and three months later their brain is gone," Kennedy said. "This is a holocaust, what this is doing to our country."
Kennedy has now been forced to apologize – not for his crazy anti-vax position, but for using the word "holocaust" and offending Jewish groups in California.