My poor husband.
When he was a college student in the late 1970's, he was a big KISS fan. He attended some KISS concerts, and once went to a Halloween party dressed as KISS guitarist Paul Stanley, complete with star makeup and platform shoes. Since he's 6'4″, he was, let's say, outstanding at that party.
He also loved the Beatles, Queen, and David Bowie. But now Bowie and Queen frontman Freddie Mercury are dead, as well as his favorite Beatle, George Harrison.
So are frontman Gene Simmons's appearances on Fox News. They're dead too. The network just permanently banned him from setting foot on Fox property ever again.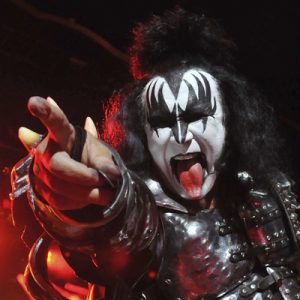 It wasn't because of anything he said on air. On his final interview with Maria Bartiromo on Fox Business, Simmons promoted himself and his book, kind of like a rock n' roll Donald Trump. He's pretty shameless about his self-promotion, too. For example, he recently tried to trademark the ASL sign for "I love you," since it sort of looks like rock n' roll horns. It takes a lot of chutzpah to try to pull off that stunt.
Well, will he or won't he? In a statement Wednesday morning, Kid Rock said that eh, maybe he won't run for Senate after all. Or maybe he…