It's a tall order for a Republican presidential candidate — especially a white man born into privilege — to expect to connect with black citizens. Yet that's what Donald Trump tried to do yesterday when he addressed the black congregants of the Great Faith Ministries in Detroit.
The event was ticketed, so as to keep protestors out. There were many empty seats. But he used his scripted 12-minute speech to reach out and even show a rare touch of humility to the attendees. He also said it was a chance "to learn." "I fully understand that the African-American community has suffered from discrimination and there are many wrongs that must still be made right," he told the parishioners.
That is not to say that Trump was well-received by other Detroit residents. Protestors, including a group led by a black minister who attempted to enter without tickets, denounced Trump's visit. Some of the protestors claimed that Trump was just using the black community as pawns: "I believe somebody within his campaign finally got through to him and said, 'Hey, look, man. You cannot be elected with zero percent of the black vote. It just won't happen.' So now he's reaching out."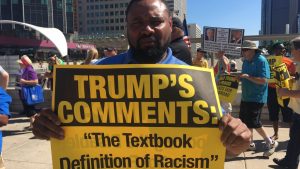 The mayor of Detroit, Mike Duggan, a Democrat, slammed Trump's visit. At a press conference organized by Hillary Clinton's campaign, Duggan scoffed, "I feel like I'm watching the next season of 'The Apprentice. This is the most phony major party nominee that I've seen in my lifetime, and that's why we're skeptical."
Yes, the mayor of Detroit has room to be skeptical of Trump's outreach to Detroit. Because Detroit under Duggan — and a long line of previous Democratic mayors — has become such a thriving, prosperous city. Why, it's become the "garden spot of Ceti Alpha VI," to borrow a line from Star Trek: The Wrath of Khan.
And then there was the dancing. Oh, it was awkward, proving the hard truth that older white men just can't dance.
But then again, what was Trump to do? Yes, his movements were wooden, and he looked very uncomfortable. But when you're a white candidate participating in a black church service, it's damned if you do, damned if you don't.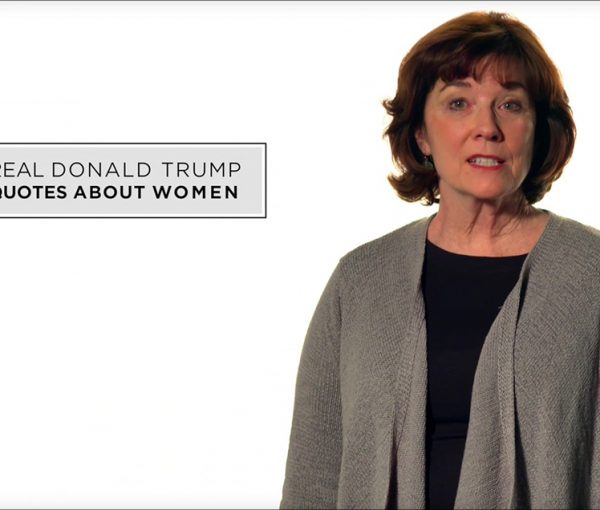 It's no secret that Donald Trump has treated women in, let's charitably say, a disdainful manner. And again, that's charitable. Our Principles PAC, a Republican/Anti-Trump Super PAC,…
Sen. Rand Paul dropped from the Presidential race this past week. Now that his bid is over, his kooky father, Ron Paul, has arisen like Lazarus to…
Donald Trump is no conservative. His supporters who think The Donald has made a conversion from being a New York liberal are deluding themselves. A video was…
Hillary Clinton's trustworthiness continues to nose dive due to the evolving email scandal surrounding her server. Now it appears that while she no doubt felt secure enough…
Hillary Clinton's flagging campaign showed further signs of desperation over the weekend when she required attendees at a Cleveland rally to sign commitment pledges. https://twitter.com/SalenaZitoTrib/status/640877172064956416/photo/1?ref_src=twsrc%5Etfw The event…
Carly Fiorina is a no-nonsense business woman, and a Republican candidate for the presidency that more and more people are beginning to see as a formidable opponent….