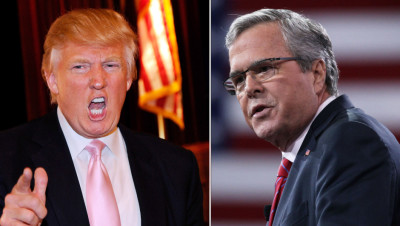 There were some fireworks at last night's New Hampshire Republican debate, as our Toni noted in her wrap-up. One of them was the dust-up between Donald Trump and Jeb Bush over eminent domain. Trump seems to regard taking the private property of others for building anything as The Best Thing Ever, while Bush — eh, not so much. The kerfuffle between the two brought plenty of boos from the audience, all aimed at Trump and his boorish behavior.
Watch the brouhaha:
Despite his New York Tough Guy Schtick, Trump was incorrect several times in this exchange:
Self-funding, indeed.
Once again, Donald Trump spent the debate producing lots of noise and bluster, all signifying nothing meaningful. Even "low energy" Jeb Bush got the better of him this time.