As a Kansan, I'm rather amused at some postmortems on the Kansas primaries, coming from non-Kansans who probably view the state as little more than the totally flat (it's not) home of farmers, wheat, and Dorothy Gale.
Let's consider the defeat of Rep. Tim Huelskamp from the largely-rural congressional District One.
Trump supporters howled with glee about Huelskamp being flattened in his primary by challenger Roger Marshall. Conservative Treehouse gloated that the "rabid, VERY RABID" Huelskamp had it coming (in ALL CAPS ITALICS NO LESS!!) because he dared to support Ted Cruz in the primary, and failed to kiss the ring of Trump.
Ann Coulter, in a tweet reminiscent of Nelson Muntz, joined in the schadenfreude.
Hahahaha! Huelskamp opposed Trump. https://t.co/6Gzco20pb8

— Ann Coulter (@AnnCoulter) August 3, 2016
Rush Limbaugh added to the pile-on of Huelskamp on his Wednesday radio show:
Tim Huelskamp, who was a rabidly anti-Trump incumbent (many thought of him as a Tea Party Republican) got skunked in the primary. He was defeated by somebody named Roger Marshall. And it wasn't even close. It was a 12-point landslide defeat for an incumbent Republican who went big on being a Never Trumper.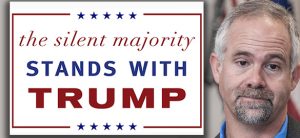 Except. . . Tim Huelskamp was not a #NeverTrump advocate. It's true he supported Ted Cruz in the primary — along with 51% of Kansas primary voters. But just last month he joined with GOP House Republicans to meet with Donald Trump, and came away from the meeting encouraged. He spoke with reporters afterwards and praised the prospect of a Trump presidency. Huelskamp, as a member of the House Veterans Affairs Committee, said that with a President Trump the committee "will fix" the VA.
But why let facts destroy a narrative?
They can't say they weren't warned. We've told them so here at Victory Girls, and other writers from those at National Review to small-time blogs have tried…
A lot of people have wondered why its taken Obama so long to respond to the oil spill disaster in the Gulf. Well, now we know. During…