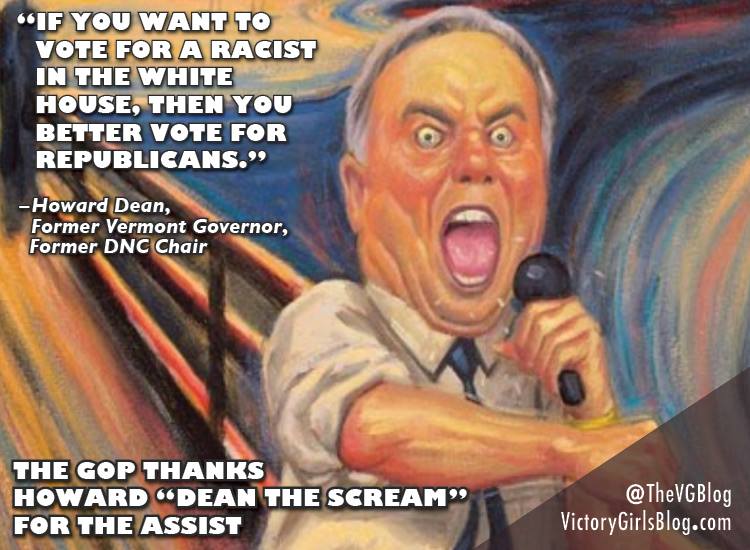 Two Democrats have publicly announced that certain groups of people are definitely racist. And no, they aren't talking about anyone in the Democrat party. Who are they? Russ Feingold, former Democrat Senator from Wisconsin, and Howard "The Scream" Dean.
Feingold wrote an op-ed in The Guardian last Saturday headlined with this lovely little title:
How the Republican party quietly does the bidding of white supremacists
And it gets worse from there.
The lesson from Charlottesville is not how dangerous the neo-Nazis are. It is the unmasking of the Republican party leadership. In the wake of last weekend's horror and tragedy, let us finally, finally rip off the veneer that Trump's affinity for white supremacy is distinct from the Republican agenda of voter suppression, renewed mass incarceration and the expulsion of immigrants.
Well…I'd say Feingold can no longer be classified as moderate on ANYTHING. We don't need to rehash ad nauseam Trump saying ALL sides are to blame in regards to Charlottesville. No, Feingold wants us to believe that the following is conclusive evidence that Republicans are racist:
Showing ID to vote
Redistricting and gerrymandering
Making criminals actually DO the time disenfranchises them
Purging voting records of those who have either died or don't live in the districts
Letting white supremacists and nationalists have the same Freedom of Speech every citizen does
Got that? If Republicans and conservatives don't toe the line that Democrats have drawn in the sand, we shall be classified as RAAACIST! John Davidson at The Federalist is correct. The Democrat progressives failed miserably at gaining support for their policies and can't seem to get their candidates elected. Yes, we're looking at you, Hillary! So, what is their tactic now? Demonizing all of their political opponents, specifically anyone who is a Republican. Think I'm wrong? 
Josh Earnest isn't funny. Like Howard Dean not funny. In fact yesterday he attempted a stab at humor about Donald Trump's unfounded drug use, an accusation first…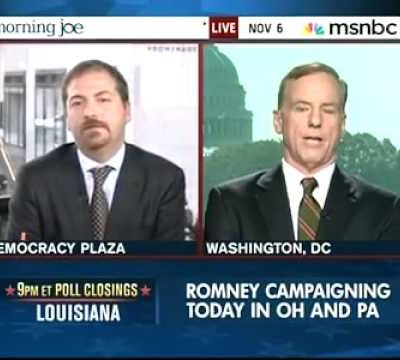 Today is the big day. Who will win, Romney or Obama? The anticipation will be nearly unbearable. We'll be covering the election all day today and throughout…