The media and those firmly in the anti-Trump and/or RUSSIA DID IT! camp just keep digging themselves a deeper hole. It's like they just don't know when to stop.
The latest reports are bad. REALLY REALLY BAD. I mean, seriously. Check this out.
Trump had undisclosed hour-long meeting with Putin at G-20 summit
And what does the story lead off with?
After his much-publicized two-and-a-quarter-hour meeting early this month with Russian President Vladi­mir Putin at the Group of 20 summit in Germany, President Trump chatted informally with the Russian leader for up to an additional hour later the same day.
ZOMG!! The Russia Trump collusion is REAL!! We're done for.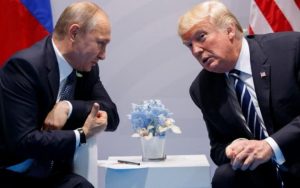 This Republic might as well throw in the towel.
Ian Bremmer just couldn't believe what he was seeing. 
"It's not surprising for leaders to have informal pull-asides when they have business to discuss in the context of these summits," the president of the Eurasia Group said on MSNBC's "Morning Joe."

"But what is unusual is the length, the warmth, in the context of what is already an unprecedented relationship between Trump and Putin in the context of the broader U.S.-Russia relationship."
Back to the ZOMG! Trump Russia collusion is REAL. We're done for!  Or are we?
President Donald J. Trump stopped in Poland on his way to the G20 summit in his second foreign trip, since his inauguration. The twelfth G20 summit will…