The Trump campaign got into another stew today, not because of more outrageous comments made by The Donald, but this time because of the butler.
You can't make this stuff up. Yes, the butler did it.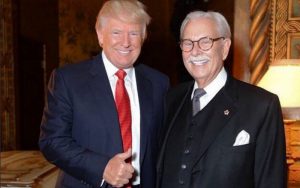 Anthony Senecal, Trump's retired butler turned Mar-a-Lago "historian" will be investigated by the Secret Service for Facebook comments he made calling for the killing of President Obama.
Here's another egregious comment made last September at Facebook, saying that "It is time for our Military to drag that fraud out the of white mosque and hang his ass for Treason and other high crimes against AMERICA!!!!!!!"