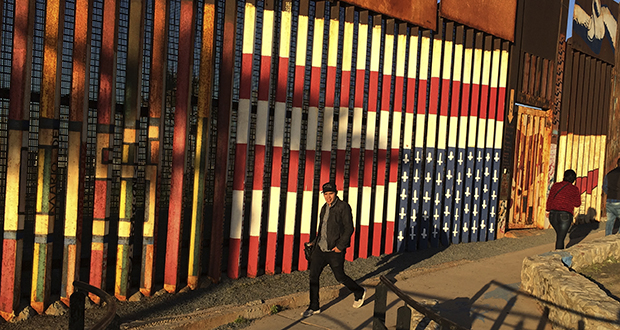 You know how politicians never fulfill the big promises they make? It appears that President Trump is working to carry out his biggest promise of all, and that's to build that wall on the U.S.-Mexican border.
On Wednesday Trump signed executive orders ordering the construction of the controversial wall. He wasn't finished either — he's threatened to cut off federal funds from "sanctuary cities" that willfully harbor illegal immigrants.
Mexican President Enrique Peña Nieto wasn't too happy about these new orders from the Trump Tornado. He cancelled a meeting that he had scheduled with Trump for next week.
And Trump's reaction? Meh. Trump declared that the meeting would've been "fruitless." "Unless Mexico is going to treat the United States fairly – with respect – such a meeting would be fruitless," he said.
There's more: the U.S. Border Patrol Chief, Mark Morgan, has been asked by the Department of Homeland Security to step down from his post. Morgan had been supportive of former President Obama's attempts to keep certain illegal immigrants from deportation. Moreover, members of the border patrol union had been supportive of Trump's presidential campaign and his executive orders. They were critical of Morgan.
As urban slang goes, "S**t's gettin' real."
Barack Obama is going to end his presidency still under delusions of his own competence. The man who once remembered that he was not a king is…
The Obama administration's scandals are numerous, yet Obama and his media are wont to say that they are "phony scandals" that the Republican Party like to chase. But…
Captain Awesome had some interesting things to say today about immigration and law enforcement today at the White House: He said that changes to immigration law are necessary…
Over the course of his first three-and-a-half year tenure, Journalist Spy Extraordinaire, Contempt-er of Congress, and staunch Civil Rights Defender of Some Eric Holder has racked up…
Sad news this morning. Two Border Patrol agents were shot this morning, one of them fatally, in Arizona. The shooting occurred near a major drug-smuggling corridor. It's…