Five years ago, Sergeant Dakota L. Meyer, United States Marine Corps, was awarded the Medal of Honor at the White House.
Since then its been an interesting roller coaster of a ride for that young man.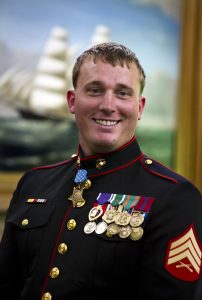 Appearances on national TV, speeches across the country, participating in events such as the NSSF Shot Show, a child with and a marriage to Bristol Palin. Through it all, it has become quite clear that Dakota Meyer loves his country 100%.
However, at times he's been very blunt in his criticism of the current Administration and Obama.
Recently, the Marines stationed in Kabul, Afghanistan invited Medal of Honor Recipient Dakota Meyer to join them in celebration of the Corps 241st birthday. The invitation was ok'd and preparations for Meyer to join them were well under way. The ball was scheduled to take place on November 10 at the embassy. The Marines and Meyer had a fantastic time right?