Sure as summer follows spring, and as garbage attracts flies, celebrities are out en masse calling for more gun control.
You may remember this emotion-laden call for restrictions on our second amendment rights that celebs made back in 2012. They called it a "demand to end gun violence," but what they really wanted was to take guns out of everyone's hands, except for, you know, their bodyguards and such.
Now, while Senate Democrats are making hay out of the Orlando shooting with their hippie-style "sit-in," celebs are jumping back on their anti-gun bandwagon.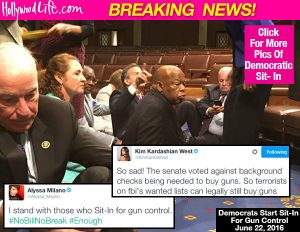 The reigning queen of publicity whore-mongering, Kim Kardashian, tweeted this comment, which revealed her complete ignorance of the difference between terror watch lists and the FBI's Most Wanted List.
So sad! The senate voted against background checks being needed to buy guns. So terrorists on fbi's wanted lists can legally still buy guns

— Kim Kardashian West (@KimKardashian) June 21, 2016
She was immediately — and deservedly — schooled.
This is what passes for a modern day tarring and feathering. MIT professor, self-described "key architect" of Romneycare and paid consultant on Obamacare Dr. Jonathan Gruber testified…