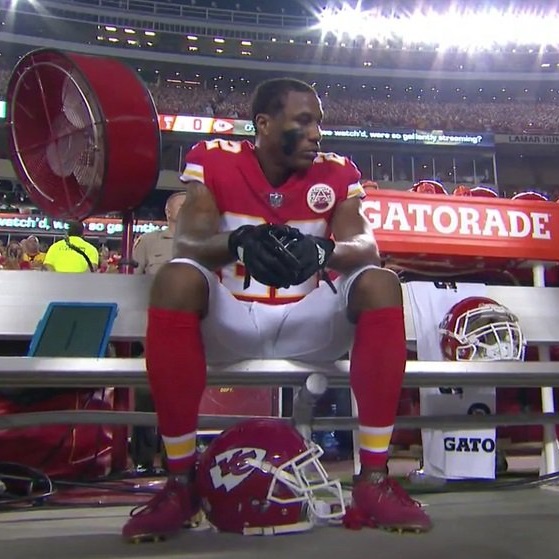 The NFL was in crisis mode long before the horrific shooting massacre in Las Vegas. Monday Night Football, as aired on ESPN, was desperately trying to avoid any and all issues related to the anthem protests (especially now with sponsors looking for feedback from customers). Initially, the network announced that they wouldn't even be showing the National Anthem (because if it's not on video, it never happened, right?). After Las Vegas, they changed their minds, and a moment of silence was added before the anthem. Well, there were apparently technical issues on top of everything else.
With about 15 minutes left, ESPN's pre-game show, Monday Night Countdown, suddenly went dark, experiencing what the ticker repeatedly told the viewers were technical difficulties. Instead of pre-game hype and analysis of the big match-up between the Kansas City Chiefs and the Washington Redskins and looks back at key games from the weekend, ESPN viewers watched a host in the studio scramble to fill dead time and quickly introduce some flashback footage of the 2017 Major League Baseball season.

That thematically inappropriate pre-edited segment was then followed by a heartbreaking pre-filmed segment on legendary NFL coach Marty Schottenheimer's tragic struggle with Alzheimer's.

A few minutes after 8 p.m. EST, the coverage of the game finally began, the hosts apologizing briefly for the lengthy "difficulties" and then doing their best to act like everything was going as planned.
And then the moment of silence was observed and the National Anthem was played. I know the quality of this video is terrible, but let's just say that only amateur video of the broadcast exists right now on YouTube for obvious reasons.

Yes, two Chiefs players decided, on Monday, after the death of 59 people and the wounding of over 500, to plant their rear ends on the bench for the National Anthem.
The fallout for the television program The View just keeps coming as three more sponsors have withdrawn in the wake of hosts' Michelle Collins and Joy Behar criticizing…