First Lady Melania Trump defined elegance and, along with Chinese First Lady Madam Peng, put on a beautiful style show. Even the most naive among us must know that every movement, every piece of clothing and every gesture is carefully negotiated statecraft. Melania Trump and Peng Liyuan managed to both look beautiful in a classic and understated way without upstaging each other. The coordination between the diplomatic corps of both administrations does them both credit.
In the above photo, both women are entering the State Dinner. Both are wearing black. Both gowns have intricate floral designs. Madame Peng, a much shorter woman, is wearing platform stiletto heels and a bouffant hairdo. Mrs. Trump is wearing to-die-for kitten pink stilettos, no platform and her hair worn simply with no height. I might have gone for a low chignon, but that is a style choice.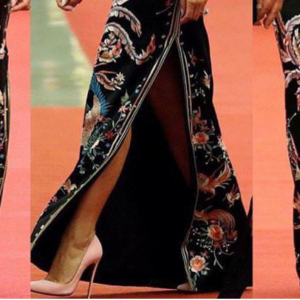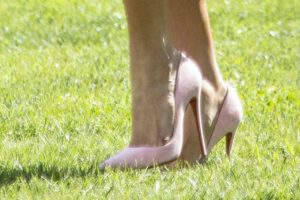 Melania Trump's shoes appear to be the pink Christian Louboutin stilettos she has worn in the past. Christian Louboutin shoes are known for their red soles. I have never owned a pair, but the 411 is that if you have to walk on concrete in them, the red wears off, just saying.
On his third foreign trip abroad, Donald Trump has largely proved "The Art of the Deal" and he makes it a family affair. Landing in China yesterday,…