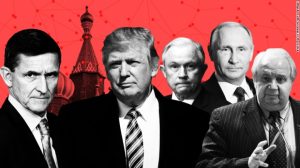 Barry Berke, Noah Bookbinder, and Norman Eisen have been busy at the Brookings Institution. Apparently they have nothing better to do than engage in wild speculation about President Trump's possible impeachment, and forecasting Trump will be found guilty of obstruction of justice in the Russia investigation and driven from the White House in shame! Or something.
Reading this 108 page report, one can almost see the trio grinning conspiratorially and folding their little hands in evil anticipation of the President's shame.
The problem is that Berke, Bookbinder, and Eisen are engaging in some unfounded speculation, basing their poor excuse for analysis, on publicly available information consisting mostly of press reports. The media hasn't exactly been reliably objective on this issue, has it, and the few public testimonies that are available and cited in this report, really don't give a whole lot of insight into motives.