In May, 2001, my daughter and her boyfriend graduated from high school together. After that, Erika worked at an Express clothing store for the summer, and in September entered a small college in Iowa.
For her boyfriend Nick, however, summer was quite different. At the end of June, he entered the U.S. Naval Academy in Annapolis, MD. After Induction Day, he went through the six weeks of mental and physical toughening known as "Plebe Summer."
But once that was over, life at the Academy would settle into a routine. A strenuous one, yes, but nonetheless a more typical academic year.
Then the 9/11 attacks occurred, and Nick soon learned that his was the last class to have entered the Naval Academy during peace.
On that day, Nick was sitting in his Rhetoric and Intro to Literature class when he learned of the attacks. All midshipmen were ordered to return to their rooms in Bancroft Hall, the massive single dormitory where all students live.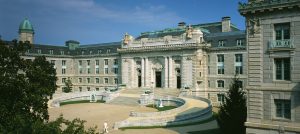 When he returned to his floor, Nick found groups of 'mids' gathered in the Wardroom, a commons area that contained couches, a microwave and refrigerator, and a TV. Usually only upperclassmen could use the Wardroom, but on that day everyone congregated there to watch news of the attacks. At some point Nick called Erika in Iowa with the news, "I'm okay."
The Army-Navy game didn't quite go as I would've liked. Army beat Navy 21-17, and ended their 14-game losing streak to the Midshipmen. I hold no grudge…