The jury, after deciding that James Holmes was guilty, and then eligible for the death penalty, has now come back for phase three of this process and could not come to a unanmious verdict on the death penalty. As a result, James Holmes will be sentenced to life in prison.
The jurors had to consider many factors during this penalty phase.
The decision follows over three months of often emotional testimony from those who survived the attack — some in wheelchairs — and the children and parents left to figure out their lives without their loved ones.

They recalled sometimes funny stories about their family members, but many also described how they or their relatives have struggled with depression, PTSD and nightmares since the shooting.

Jurors also viewed graphic images of the wounded and the dead.
Jurors also heard from Holmes' parents, who drew a contrast between the man who entered the theater dressed in body armor and the boy they knew growing up, who was never violent and excelled at school. The defense showed jurors photographs of James Holmes hanging on in the backyard with children from the neighborhood and playing in the surf near his home in California.

It was the first time Robert and Arlene Holmes spoke publicly about their love and support for their son, other than an appeal to try to save his life in an op-ed published just before jury selection started.
The death penalty required unanimous consent from the jurors. Because they did not, item three on the final sentencing form applied to every murder charge.
If you want to follow along as the judge reads the #TheaterTrial verdict forms at 5pm, here's what they look like: pic.twitter.com/C6tJj0t8RI

— Brandon Rittiman (@BrandonRittiman) August 7, 2015

Some family members of the victims will be perfectly fine with this verdict. Others will not be. But by default, James Holmes has escaped the death penalty. He should now be tossed into a dark cell and forgotten forever.
The jury has reached a verdict in the second part of the penalty phase in the Aurora theater massacre. James Holmes was found guilty on July 16th…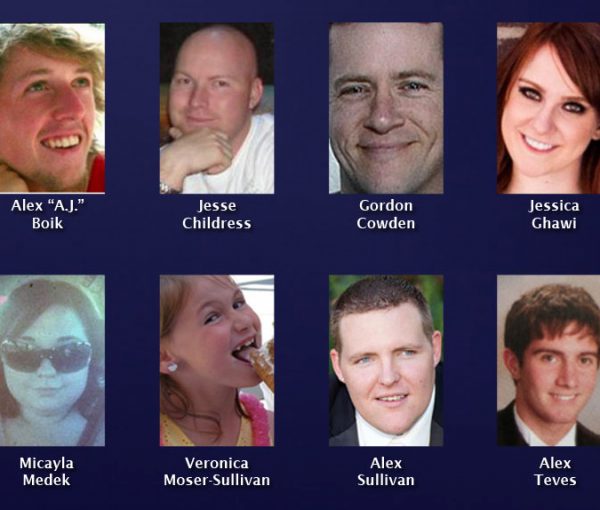 On Tuesday evening, July 14, 2015, after three very long months of testimony, 200 witnesses and nearly 22 hours of interviews; the jury for the Aurora Theatre…
The murder of 9 people at the Emmanuel AME church in Charleston, SC has left many reeling in shock and pain; the family members, parishioners, and friends most…
Over the weekend in Seattle, yet another murder by an allegedly mentally ill person occurred.  A popular English professor at a local community college was killed while…