I am not dispassionate about The Citadel, The Military College of South Carolina. My only child, my son, is a 2010 graduate of that "bastion of antiquity". Fourth Battalion, Oscar Company, to be clear. I love that school with every fiber of my being. My son worked hard for and received an education that has enabled him to succeed in his chosen profession. That is what a college education is supposed to do. It was not easy and he wasn't always happy at The Citadel.
There are rules at The Citadel. There are a lot of rules at The Citadel. The rules govern every activity and action a cadet takes.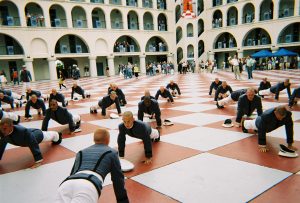 The Citadel has been put on notice by a Muslim student that she would like to honor her Islam faith by wearing her hijab as part of her uniform, as reported by NBC News. The Citadel is expected to make a decision in the next few weeks.
The Citadel was founded in 1842, in part, to provide troops to put down slave rebellions. Citadel cadets fired shots at the resupply ship the "Star of the West" at Ft. Sumter in the opening salvo of the Civil War.
Charles Foster, the first African American cadet, entered as a knob in Golf Company in 1966. Asian students had been at The Citadel since the 1920's and Hispanic cadets since the 1950's.