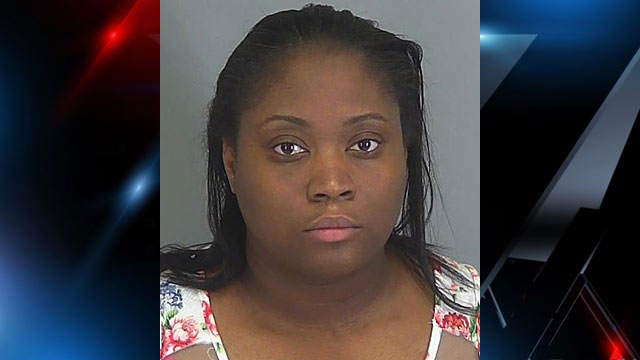 Meet POS Shontrell Murphy, age 30, from Spartanburg, South Carolina. She's posing for this mugshot because she recently beat her six year old son, violently slapping him multiple times in the head. Why? Because her young son gave a Mother's Day card to her mother, his grandmother, instead of to her.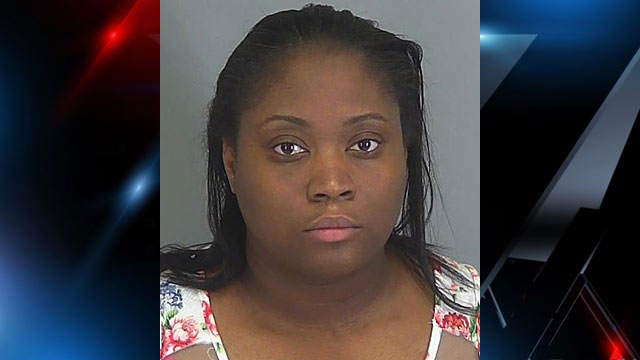 So here's what happened.
Spartanburg police officers responded to a disturbance call at a home this past Thursday evening. There they found a woman with two children, a girl and a boy, and the boy was crying. The woman said she was their grandmother and that her daughter, the children's mother, had slapped the crying child multiple times on the head. Then, the boy's sister told police that their mother was angry because her brother had made a Mother's Day card for their grandmother and not their mother. Police saw a handmade Mother's Day card ripped up at the scene.
When the police questioned the children's mother, Shontrell Murphy, she admitted to "smacking the child" but didn't believe she hit the child in a "hard or violent manner." The children however reportedly told the police their mother hits them all the time in a violent manner and they are afraid of her.
Stupidly jealous and violent "mother" Shontrell Murphy, has been arrested and charged with cruelty to children. With a mom like this, is it any wonder this little kid makes a Mother's Day card for his grandma instead?
Meet the person at the top of ISIS' "most wanted" list. Her name is Wahida Mohamed Al-Jumaily, who goes by the name of Um Hanadi. She is…