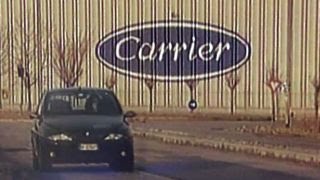 Donald Trump campaigned in the Rust Belt on a platform of keeping jobs in the US. One of his stops was a Carrier plant in Indiana which was planning to move all operations to Mexico by 2017. Now Carrier is changing their plans. They are not sending all 1700 jobs to Mexico. 800 union jobs are staying in Indianapolis. The Associated Press (AP) reports on this here:
By enabling Carrier's Indianapolis plant to stay open, the deal spares about 800 union workers whose jobs were going to be outsourced to Mexico, according to federal officials who were briefed by the heating and air conditioning company. This suggests that hundreds will still lose their jobs at the factory, where roughly 1,400 workers were slated to be laid off.
This is very good for this plant, the employees and its suppliers and the state of Indiana. Keeping this specific plant open was a campaign promise by Trump which he is keeping.  United Technologies the parent company of Carrier announced that:
"Today's announcement is possible because the incoming Trump-Pence administration has emphasized to us its commitment to support the business community and create an improved, more competitive U.S. business climate," the company said.
What does this mean?
The workers are happy.  I am hoping this is not a one time event.  Hoping we keep more manufacturers in the US. And what was the benefit to the company of moving this plant? $65 million a year.
Carrier's parent company indicated that moving production to Mexico would save the company $65 million annually. Because of pressures like that, states routinely give manufacturers incentives, and "economists who recoil at the thought of this are living in a dream world," said Scott Paul, president of the American Alliance for Manufacturing
Getting rid of red tape keeps jobs.  You think?
For Trump, a challenge will be trying to duplicate the Carrier feat many times over to retain and increase the nation's 12.3 million manufacturing jobs.
Really hope this makes state and local governments to be more business friendly at the very least.  This is a good time to rethink the wage/benefit and pension structure.
I truly hope Trump exceeds expectations.  I want to be wrong.
Donald Trump is no conservative. His supporters who think The Donald has made a conversion from being a New York liberal are deluding themselves. A video was…
After President Obama's combative State of the Union address on Tuesday, the level of Republican backlash was expected, but now he is taking unexpected flak from members…