Over the last week we've watched Harvey dump trillions of gallons of rain across Texas and into Louisiana. We've also seen the resilience, bravery, humor, and sheer awesomeness of people rallying to help friends, neighbors, and complete strangers.
Chick Fil-A to the rescue!
A grandma getting jet ski'd out of her home in #Houston. #HoustonStrong pic.twitter.com/p8tlmLeQLt

— Brandon Morse (@TheBrandonMorse) August 29, 2017
Pizza Hut delivery by kayak: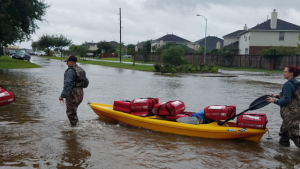 Cowboys herding livestock out of flooded areas:
People on horseback herd lost cattle back across a flooded road in Crosby, Texas https://t.co/FIfKPThGlz pic.twitter.com/tJLKgUMDXT

— CBS News (@CBSNews) August 30, 2017
Yes, CBS, those are COWBOYS!
This is Houston. Wanna know what this line is for? Food? Water? Housing? Nope. These people are waiting in line TO VOLUNTEER. #Harvey pic.twitter.com/UxGnqSNOQN

— Michael Berry (@MichaelBerrySho) August 30, 2017
Americans helping Americans because that's just what we do.