After the horrific attack in San Bernardino yesterday that left 21 wounded and 14 dead, the scramble for information and the motive began. Sadly, many still think this attack and motive are attributed simple workplace violence. REALLY?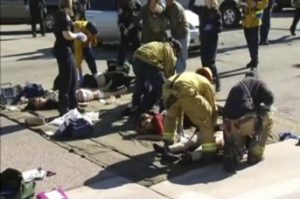 I'll grant you that this terrorist attack took place at a work event. But has anyone thought that perhaps the shooters PLANNED it that way? Well, we are now finding out more concerning Syed Rizwan Farook and Tashfeen Malik after the press conference this morning, and its certainly NOT looking like a workplace grievance gone bad.
https://youtu.be/cVfAqMlylBM
For two people living on a salary of about $53,000 per year, they had quite the interesting and dangerous collection of goodies. At least 12 pipe bombs, enough materials to make multiple IED's, and 45oo or more rounds of 9mm and .223 ammunition. That doesn't include the 65-75 rounds fired at the party, nor the nearly 100 rounds fired at the police before they were killed. One has to wonder where they got the funds to buy all of that. I certainly hope someone's following the money trail!
"If you look at the pre planing that went into this incident it's apparent; it is going to take time to answer why." FBI David Bowdich

— SB County Sheriff (@sbcountysheriff) December 3, 2015
Did you know that there was a Democrat Presidential debate last night? I know, you're thinking.. who in their right mind would have a 2 hour debate…