Who doesn't love a good rock song? There are some great ones and terrific rock groups out there. I'll admit, I'm a fan of 80's rock and I've quite a playlist from that era. That list includes more than a few songs of Bon Jovi's.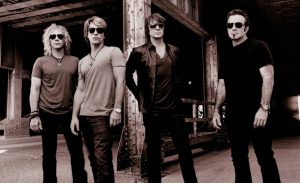 "Livin On a Prayer" was the first song of Bon Jovi's that I listened to and its still one of my long-time favorites.
Recently Bon Jovi debuted a new song, and with his actions last Saturday night I've decided it needs to be added to my playlist. A little background first.
It seems that Pink Floyd's Roger Waters isn't content with only churning out songs and playing gigs around the world, he's also become a lecturing, haranguing celebrity with a distinct love for Palestine and an incredibly distinct hate for Israel. In fact, Waters is one of the founders of an organization, BDS (Boycott, Divestment and Sanctions) that openly advocates for both a one-state solution and Israel's disappearance from the face of the earth.
Over the years, Waters has ranted, raved, and written copious screeds against Israel and against any celebrity who dare visit and or perform in Israel with the exception of Kanye West. Celebrities on his list include singer and U.N. Global Ambassador Dionne Warwick, Robbie Williams, Paul McCartney, Elton John, the Rolling Stones, and many more. Just last week, he took to Salon magazine and lectured Bon Jovi for daring to travel to Israel and perform. Its seems the band was unimpressed with his lecture.